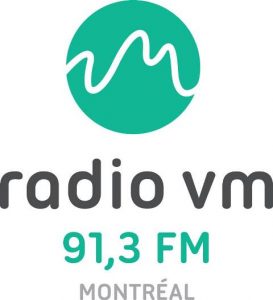 Radio VM aka CIRA-FM is a Christian radio broadcasting from Montreal since 1994 on a frequency of 91.3 MHz. CRTC authorized Radio Ville-Marie on Oct 14, 1994 to launch a French language religious format station using a frequency of 91.3 MHz and an ERP of 36,200 w. It was stated in approval that Radio VM would air at least 60 hours of local content per week. As a nonprofit organization it was agreed that the time for adverts would be reduced to six minutes per hour making a total of 504 minutes of commercial each week. Radio VM 91,3 officially hit the waves in 1995 from its studios at 4020, St. Ambroise, bureau 199 in Montreal. A rebroadcaster at Trois-Rivières was approved by the commission in March 2003, it would air on a frequency of 89.9 MHz using an ERP of 6,000 w. Another one at Vitoriaville on 89.3 was also approved in Sep 2003.
Listen Radio VM 91.3 Montreal, QC Online
Welcome to Radio francophone au Québec! Listen Radio VM 91,3 (CIRA-FM) online from Montreal, Quebec. Wait as the stream loads.

More About Radio VM 91.3
Rimouski transmitter was approved in Sep 2008 followed by another one at Gatineau in 2009. CRTC renewed the license of the main Radio VM Montreal and repeaters on Nov 30, 2010 until Aug 31, 2017. Au cœur de l'essentiel is the catchphrase of Radio VM 91.3. Franco-Quebec audiences can have Radio VM 91.3 online with news, religious and community talk, social, cultural and other variety of stuff. Listeners can also make donations to Radio VM 91,3 through the web-portal. Follow CIRA-FM 91.3 on Facebook and Twitter. Here is the website: www.radiovm.com
Radio VM 91,3 Progrmmation
| Rendez-vous gospel | Les actes des apôtres | Les bâtisseurs de lumière | L'insoumis de Nazareth |
| --- | --- | --- | --- |
| Réflexions musicales | Récit au grand orgue | Rendez-vous pour l'âme | L'esprit gospel |
| Paroles et confidences | De Paix et de Développement, animée par Ryan Worms | Chemins de vie | Questions d'actualité |
| Questions d'aujourd'hui | Point de rupture | Québec inc. | Albert et les 1000 airs |
| Faire justice autrement | Au diapason des Cantons | Voix orthodoxes présentée par François Dumas | Parking nomade |
| Parler avec Dieu | De Paix et de Développement | Des voix et des Hommes | Passion Marcel |
| Foi et turbulences | Parole au présent | Horizons jeunesse | Bonjour la vie |
| Heureux mais pas content | De génération en génération | Spiritualité | Culture à la carte |
| Au coeur de l'être | Arts et lettres | Chemins protestants | Silence intérieur |
| Vie religieuse aujourd'hui et demain | Chrétiens du Moyen-Orient | Sur deux notes | Chapelet |
| Au gré du temps | On n'est pas du monde | Carte blanche | Célébration eucharistique |
| Au bout du monde | Claudine Bertrand, animatrice de Arts et lettres | Vues d'ailleurs | Chants grégoriens |
| Evening Prayer | En dialogue | Airs de country | Voix orthodoxes |
| Debout VM ! | Couleurs et mélodies – Benoît Vaillancourt | Couleurs et mélodies – Madeleine Lemaire | Couleurs et mélodies – Maurice Rhéaume |
| Au coeur du monde | Arc-en-ciel musical – Arcobaleno musicale | Couleurs et mélodies – Jean-Pierre Harel | La Bible racontée |
Radio VM 91,3 Animateurs
| Larose Gaëtane | Laporte Francine | Lalonde Marie-Claude | Lacroix Benoît |
| --- | --- | --- | --- |
| Éric LeBel | St-Arnaud Royal | Gaëtane Larose, animatrice | Leboeuf Marcel Leclerc- |
| Casgrain Yves | Burgun Isabelle | Doran Marc-André | Boileau Josée |
| Daris André | Torres Ève | Bard Mario | Brousseau Marilou |
| Dubois Armand | Lamontagne Marie-Andrée | Bock-Côté Mathieu | Yelle Martin |
| Dumas François | Bonetto Richard | Royal St-Arnaud, animateur | Bernard Justin |
| Bélanger Benoît | Duchesne Martin | Marie-Andrée Lamontagne | Lacas Sylvain-Alexandre |
| Cousture Arlette | Queval Claude | Ayas Raouf | Bertrand Claudine |
| Côté Vital | Cardin Frédéric | Cloutier-Dupuis Christiane | – |
| Crivelli Jean-Claude | Adelfang Philippe | Boucher Jacques | – |
Contact
Address: 5000 Rue d'Iberville, bureau 303
Montréal, QC H2H 2S6
Tel: 514 382 3913
1 855 212 2020
Fax: 514 858 0965
Email: auditoire@radiovm.com