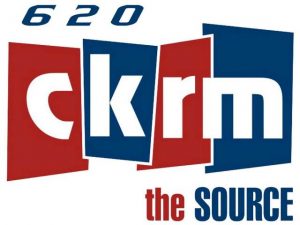 620 CKRM launched in 1926 is a Harvard Broadcasting Station based in Regina. Proudly Saskatchewan and The Source are the catchphrases of the 620 CKRM. The history of the station goes back July 27, 1926 when in Moose Jaw Grain merchants James Richardson and Sons Ltd established CJRM. CJRM (later 620 CKRM) would initially broadcast on frequency of 665 kHz using and ERP of 500 watts. In 1928 the owner of the station launched CJRW in the town of Fleming. Bother CJRM and CJRW basically were farmer stations the crucial info about grain, harvest and market prices in the program "Breadbasket of Canada"; the frequency of the former was changed to 880 kHz in the same year (1928). In 1933 Richardsons were given permissions to setup another 100-watt station in Winnipeg, Manitoba and transmitter site for CJRM was shifted from Moose Jaw to the village of Belle Plaine. Belle Plaine transmitter would work with an ERP of 1,000 watts and the new frequency would be 540 kHz.
Listen More Saskatchewan and Canadian Radios
Listen 620 CKRM Regina, SK online
Listen CKRM 620 AM online from Saskatchewan. Wait as the player loads the stream.
CJRW suffered a closure due to the termination of inter-city broadcast line and hence shut down later in 1934. 960 kHz was the new frequency of CJRM-AM in 1939. In April 1940 Victor Sifton acquired the radio division of Richardson and sons Ltd, eventually purchasing the Winnipeg based CJRC and CJRM-AM. Frequency was switched to 980 kHz after the Havana Treaty came into effect on March 29, 1941. CJRM was renamed as CKRM in 1943. CKRM 620 AM got affiliated with CBC's Dominion Network in 1944. Wattage was increased to 5,000 watts in 1947. CKRM was transferred by CBC Board of Governors from Transcanada Communications Ltd to Western Communications Ltd in 1956. A Power increase in 1958 made a 10,000-watt transmitter for the Western Communications after an approval which applicant got after quite a time with a number of deferrals coming its way. Cambrian Broadcasting Ltd. Purchased the station from Western in 1961. Dominion and Trans-Canada were merged into a single entity CBC Radio network in 1962 terminating the affiliation of the CKRM 620 AM. On June 15, 1970 the Buffalo Broadcasting Ltd became the latest owner after acquiring the 620 CKRM from Cambrian post the approval of CRTC. The ownership was once again changed from Buffalo to Harvard Developments Ltd on March 1, 1981. Harvard on November 30, 2001 got approval from CRTC to acquire the assets of Craig Broadcasting Systems which previously partnered with in 1998 to share the studio space of the company. The format was switched from Country to a Mix of Country music and Sports in 2010. In addition the 620 CKRM would broadcast regional news, provincial news, and content in accordance with the interests and demands of the inhabitants of Saskatchewan. Audiences apart from Country Hits can listen to the news, sports (Saskatchewan Roughriders, Regina Pats), weather (Regina Forecast, Sask-Wide Weather), participate in contests (CAGE-Final Farewell Party, SportsCage Coach of the Week) and Daily Poll, Join Country Corner, AG (Agricultural programs, news & info, events etc. for farmers) find Recently Played music (Playlists) and CKRM Concert Calendar, events (620 CKRM 90th Birthday Bash) Enjoy Farm Fresh Song, find what's news and more fun stuff. Regina Traffic reports and Highway Hotline is also available for the listeners. Fans may also get the missed episodes of The Sports Cage Show through podcasts and can have the Roughriders broadcast schedule. You may follow the 620 CKRM on Facebook, Twitter, Instagram and YouTube. Here is the website: www.620ckrm.com
620 CKRM Programs
| Mornings with Jamie Lewis & Gloria Evans | SportsCage | Saskatchewan at Night (Sask@Night) |
| --- | --- | --- |
| Colin Lovequist Show | The Country Music Show | Brandon Basler |
| Number One's at One | Drive Time with Ryan Schultz | Saskatchewan Agriculture Today with Jim Smalley |
| Sunday Morning Request Show | Flea Market | Weekends w/Ray |
620 CKRM Personalities
| Ray Alan | Jamie Lewis | Rod Pedersen | Gloria Evans | Brandon Basler |
| --- | --- | --- | --- | --- |
| Ryan Schultz | Nevan | Colin Lovequist | Jim Smalley | – |
Contact
Address: 620 CKRM – The Source
c/o Harvard Broadcasting
1900 Rose Street Regina, SK S4P 0A9
Tel: 306 546 6200
306 546 6298
Contest Line: 306 936 6262
Fax: 306 781 7338
Emails: jasonh@harvardbroadcasting.com