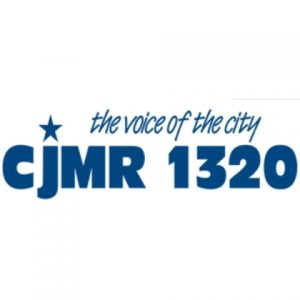 CJMR 1320 is a Mississauga based multilingual community station owned by Trafalgar Broadcasting and has its studios on Church Street in Oakville. The license of the CJMR was received on Nov 27, 1973 by Caine family which also had ownership to CHWO. CJMR got launched on June 17, 1974 from its studios at 490 Wyecroft Road. The sisters CHWO and CJMR with the approval of CRTC had to find a new transmitter site in 1979 after the establishment of a community that would surround is transmitter site. Wattage for the day and nighttime was 5,000 and 10,000 w respectively. Ethnic content was increased to 17% in 1986. Frequency was changed to 1320 kHz on Jan 9, 1990 and day and nighttime wattages were increased 10,000 and 20,000 watts respectively. By year 1993 the station took over most of the ethnic programming of its sibling CHWO to become a fulltime ethic radio. Sports programming was shifted to CHWO.
Listen CJMR 1320 AM Oakville, ON Online
Listen CJMR1320 online from Oakville, Ontario. Stream may take a moment to load.

Full List of Ontarian and Canadian Radios
In Feb 2001 multilingual format became a fulltime identity as the channel moved to more multilingual and Christian programming. Effective control was changed to Trafalgar Broadcasting Ltd in Nov 2015. The Voice of The City is the catchphrase used by the CJMR 1320. Audiences can enjoy Croatian, Romanian, Ukrainian, Mandarin, Spanish, Tagalog, Italian, Portuguese, Filipino, Urdu, Punjabi, Gujarati, Bengali and Hindi make part of regular programs meant for multicultural communities which make roughly 650,000 people. Programming for South Asians make 120 hours in a normal week. Follow the CJMR 1320 AM on Facebook and Twitter. Here is the website: www.cjmr1320.ca
CJMR 1320 Programs
| Focus on the Family | Rangla Punjab | Punjab Di Goonj | Apna Punjab Radio |
| --- | --- | --- | --- |
| Dars-e-Yazdan | Vision Para Vivir | Ajj di Awaaz | Song of Ukraine |
| In Touch | Road News Rangoli | Dil Apna Punjabi | Geetan Naal Preetan |
| Fulkari | Sadda Virsa | Aguarela Portugues | Saanjh Dilan Di |
| Radio Maryja | Nav-Rang | Radio 7 | Sargam |
| Turning Point | The People's Gospel Hour | Hum | The People's Gospel Hour |
CJMR 1320 Personalities
| RJ Aman | Jatinder Jaswal | Anju Sikka |
| --- | --- | --- |
| Sukdev Gill | Rajinder Saini | Harjot |
| Agata Kusznierewicz | Dr.Balwinder Singh | SanDeep Kaur |
| Navraj Grewal | Sukhbir Sidhu | Tony Marwaha |
| Kuldip Deepak | Dilbag Singh Chawla | Raj |
| Martin Van Denzen | javed dean | Davinder Bains |
Contact
Address: 284 Church Street
Oakville, Ontario, Canada
L6J 7N2
Tel: 905 271 1320
905 338 1320
905 273 7900
Fax: 905 845 9171
Email: contact@cjmr1320.ca