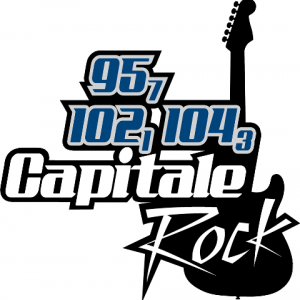 104,3 Capitale Rock is a Val-d'Or based French active rock radio owned by RNC Media. The history of the CHGO-FM dates back to 1939 with the establishment of CKVD on Oct 16, 1939, it was using a frequency and ERP of 1200 kHz and 100 w. Frequency was changed to 1230 kHz in 1941 and ERP increased to 250 w in 1943. Radio Rouyn Abitibi Ltd. was known to be the owner of the radio in 1946. Radio Nord Inc. had their ownership of the channel in 1957. By the year 1966, it was airing on a frequency of 900 kHz with the transmitter powers of 10,000 w and 2,500 w for daytime and nights respectively. The channel got linked to Telemedia Network and ended its affiliation in 1988. CRTC approved RNC on April 7, 1998 to set up an FM at Val-d'Or and would be looked as replacing CKVD, CKRN Rouyn-Noranda and CHAD operating from Amos.
Listen More Canadian and Quebec Radio Stations
Listen 104,3 Capitale Rock Abitibi 104.3 FM Val-d'Or, QC Online
Bienvenue à Capitale Rock! in Abitibi-Témiscamingue. Listen Capitale Rock Abitibi 104,3 FM online from Val-d'Or, Québec. Wait as the player loads.

More About Capitale FM Abitibi
The station was launched in the fall of 1999 while the earlier mentioned transmitters would replace by CHGO 104.3, CHGO-FM-1 95.7 and CHGO-FM-2 102.1. The format was changed from classic to Alternative rock in March 2009. Since 2010 the Rouyn-Noranda repeater (CHGO-FM-1) has been shifted to CJGO's way and is serves no more to the license of CHGO-FM 104.3. Effective radiated power was incremented to 75,000 w in 2017. Audiences can have Capitale Abitibi Rock radio online with musique, Canevas, Concours, Calendrier,Nouvelles, Photos et vidéos, podcasts and more. Follow Capitale 104.3 on Facebook and Twitter. Here is the website: www.abitibi.capitalerock.ca/
Capitale Rock Abitibi 104,3 Programmation
Capitale Rock Abitibi 104.3 Animateurs
| Stéphanie Belzil | Maxime Viau |
| --- | --- |
| MO | Bénédicte Armstrong |
Contact
Address: 380, rue Murdoch
Rouyn (Québec) J9X 1G5
Tel: 819 762 0744