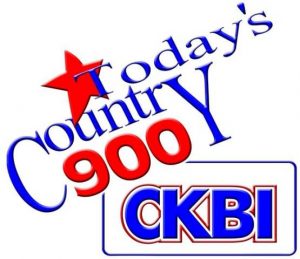 CKBI 900 AM with the branding of Today's Country launched in 1930 is a Jim Pattison Group station that hosts country music for the Prince Albert audiences. The channel traces its roots back to 10BI setup by P.A. Radio Club. Lloyd Moffat and Bob Price acquired the 10 BI (Today's Country 900 CKBI-AM) which was now licensed in 1929. In 1933 a commercial license was granted and 10BI was replaced with CKBI and the frequency assigned was 1210 kHz with and ERP of 100 watts. CKBI moved to news studios and wattage got increased from 100 w to 250 w. In Keeping with the terms of Havana Treaty CKBI 900 AM got its news frequency 1240 kHz which was then shifted to 900 KHz in March 1941 and power was incremented to 1,000 watts. The power was increased to 5,000 watts in July 1945 and the channel switched its frequency to 940 kHz in November of the same year.
Listen Today's Country CKBI 900 AM Prince Albert, Saskatchewan Online
Listen CKBI-AM Today's Country 900 AM live from Prince Albert, Saskatchewan. Wait as the player loads the stream.
Entire List of Saskatchewan and Canadian of FM and AM Radios
More About Today's Country 900 AM
In 1946 Central Broadcasting Co. Ltd purchased the commercial station from the long remained owner Lloyd Moffat. CKBI became Saskatchewan's Most Powerful Private station when a wattage increment was authorized changing the ERP from 5,000 to 10,000 watts. The FM sibling of the CKBI 900 AM, CFMM was launched in 1982 followed by another one: CHQX-FM in May 2000. Central Broadcasting Ltd was rebranded and thus claimed a news name: Rawlco Radio Ltd in 2002 after the intracorporate reorganization of its elements. A rebroadcast relay transmitter of the Today's Country 900 AM was launched in 2005 in La Ronge at 95.9 MHz. The Big River station at 92.5 MHz was the next one to come in November 2008. CRTC renewed the licenses of the CKBI and its satellite stations in May 2010 for six-year-term until August 31, 2016. In 2014 CKBI and its repeater with other sister stations were acquired by Jim Pattison Broadcast Group. Audiences can listen to the best classic and contemporary country charts with news, contests, concerts and events info by visiting the official site. You can also find the CKBI Today's Country 900 AM on Facebook and Twitter. Here is the website: Today's Country 900 (CKBI-AM)
Programs
| Bob Kingsley Country Top 40 | Today's Country Morning Show Nigel Maxwell & Drew Wilson | Doc of Rock | Sask Country Countdown |
| --- | --- | --- | --- |
| Region @ Noon | Region At Noon | Southern Gospel Show | Hot Shot |
| Highway Hotline | Ask the Expert | Medical Minute | Lotto Numbers |
Hosts and DJs
| Drew Wilson | Chelsea | Ken Landers |
| --- | --- | --- |
| Neil Headrick | Don Mitchell | Nigel Maxwell |
Contact
Address: 1316 Central Avenue
Prince Albert, SK
S6V 6P5
Telephone: 306 763 7421
1 800 667 9000
306 922 6397
Emails: 900ckbi@rawlco.com
karl.johnston@jpbg.ca
gkalin@jpbg.ca