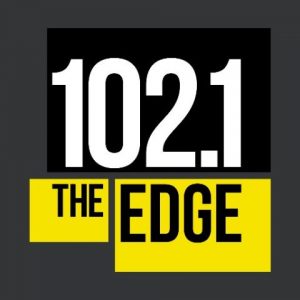 102.1 the Edge Brampton (CFNY-FM) launched on Aug 8, 1960 is a Brampton based Modern/New Rock station owned by Corus Entertainment. CFMJ and CILQ are the siblings and Modern Music is the catchphrase. CFJB Ltd. was approved for an FM in Brampton and was acquired by CHIC Radio Ltd; the calls of the channel were changed to CHIC-AM in 1959. On Aug 8, 1960 the radio was finally launched as CHIC-FM broadcasting on 102.1 MHz using an ERP of 857 w. The call signs were changed from CHIC to CFNY-FM in 1976. Effective Radiated power was increased to 100,000 w in Aug 1977. In a move to change the studios in 1981 CKMW (Previously CHIC-AM) and CFNY-FM began to share the same roof.
Listen 102.1 the Edge Brampton, ON Online
Listen 102.1 The Edge online from Brampton, Ontario. Wait as the stream loads.

Full list of Ontarian and Canadian Radios for Listeners
More About 102.1 the Edge
Wattage was decreased to 61,000 win 1981. ERP was decreased to 23,100 w in Nov 1982 and was then changed to 35,000 w in Sep 1983. Selkirk Communications Ltd. which had ownership to the station until Sep 1989 sold out it to Maclean-Hunter Limited; Key Radio Ltd., a subsidiary of the company was now in control of the channel. Rogers after purchasing Maclean sold the subsidiary Key Radio Ltd to Shaw Communications Inc. in 1994. Shaw became Corus Entertainment Inc. in 1999 with Shaw family having major shares in it. CRTC renewed the license of 101.2 the Edge on Aug 24, 2012 until Aug 31, 2017. Listeners can have their favorite modern rock station CFNY-FM online with shows info, contests (Edge Let it Ride, Lights Out with Mill Street, The Ultimate Song Survey) , on demand, the latest news feeds, playlists, photos & videos, concerts & events info and more. Follow 102.1 the Edge on Facebook, Twitter, Instagram and YouTube. Here is the website: www.edge.ca
CFNY 102.1 FM Shows
| Ongoing History | Wade | Edge Mornings with Melani & Adam | Citizen Edge |
| --- | --- | --- | --- |
| Kid Craig | Fearless Fred | Luke | Alan Cross |
| Edge Music | Greg Beharrell | Carly Meyers | – |
CFNY 102.1 FM Personalities
| Luke | Carly Meyers | Adam Richard | Fred Kennedy |
| --- | --- | --- | --- |
| Wade MacNeil | Melani Mariani | Greg Beharrell | Alan Cross |
| Ross MacLeod | Julisa Ly | Kid Craig | – |
Contact
Address: Corus Quay
25 Dockside Drive
Toronto, Ontario
Canada
M5A 0B5
Tel: 416 870 3343 (EDGE)
416 479 7000