Real Radio Scotland Listen Live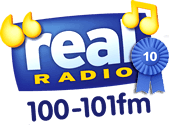 Radio Radio Scotland is an independent radio station based in Central & Southern Scotland and owned by GMG Radio. It was first on aired as a local radio station on 8 January 2002. It broadcasts from the studio in Ballieston in the end east of the Glasgow. The station plays hot local & national news (hourly with detailed), showbiz, music (western, cultural & UK's favourite), lifestyle & fashion, sports transmission & events broadcasts.
Real Radio Scotland Frequencies:
Below are listed the frequencies of the station:
100.3 MHz in Glasgow
101.1 MHz in Edinburgh
DAB: 11D in Switch Digital Scotland
Ownerships
GMG Radio is among the list of UK's largest radio owning groups and operates many radio stations all over the United Kingdom. It's a radio division of the Guardian Media Group. John Myers & Stuart Taylor are the two famous key people who gave many help to perform GMG Radio. The owning radio group headquarters are in Salford, Greater Manchester.
Real Radio Scotland Live Streaming – 100-101 FM Listen Online
Below is the live on-aired streaming of the station, please wait a while the stream loads completely.
You can also listen this fm even you're outisde UK, USA or Canada