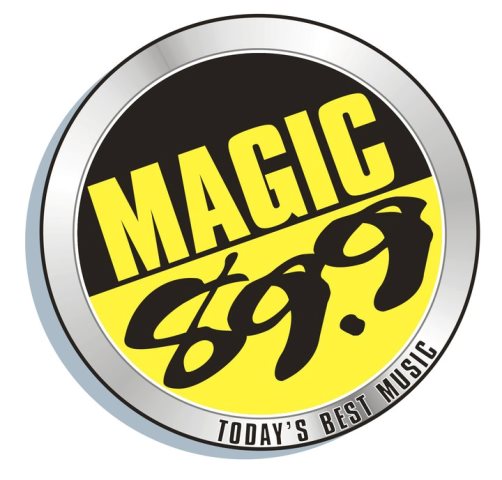 Magic 89.9 is a Mandaluyong-based Top 40 and AC format station owned by Quest Braodcasting Inc. Launched on Feb 14, 1986 on Valentine's Day, the first broadcasts were carried from Philippine Communications Center Building (PHILCOMCEN) located in Pasig City. Bernie Buenaseda headed DWTM-FM with a staff of 10. It opened just 11 days before Corazon Aquino was sworn in as the President of Filipinos after the revolution. The transmission was expanded to 24 hours in 1988-89. Love Notes hosted by Joe D'Mango, a counseling program launched as gimmick turned out to be a huge success among office workers in late 80s. It was later aired on ABC-5 before getting transferred to its sister Wave 89.1 in 2001. Studios of Magic 89.1 were relocated from Pasig City facility to Paragon Plaza Building in Mandaluyong on Nov 29, 1999 where it was accompanied by sister 99.5 RT (now 99.5 Play FM) and a couple others. Trends were set with the launch of Friday Magic Madness and Saturday Slam; the programs would play hits from 1980s and 1990s.
Get Full List of Mega and Metro Manila Radios
Listen Magic 89.9 FM Manila, Philippines Online
Listen Magic 89.9 (DWTM-FM) online from Mandaluyong City in Mega and Metro Manila, Philippines. Wait as the player loads.
More About Magic 89.9 FM
There was a lot of come and go in those days, replacements and returns continued at that time and for years to come. Mo Twister may be the chief example of the shuffle who made a strong comeback with Sam Oh in Jan 2014 for the Classic Good Times at Mornings. Web-portal of the Magic 89.9 was launched on July 17, 2007 for worldwide audiences. Among recent additions are Saturday Night Takeover, American Top 40 and BigFish Radio. Lovenotes was revived after 27 years of absence on Nov 6, 2015. Saturday Slam was put to halt after its last program on Dec 26, 2015. Magic 89.9 celebrated its 30th anniversary on Feb 14, 2016. Sunday Slowdown hit back the waves on Feb 28, 2016. Today's Best Music is the tagline used by the DWTM-FM 89.9 currently powered with a 25,000-watt transmitter. You can listen DWTM-FM online with Show info, BlogRoll, Promos & Events, Celebrity and music news, lifestyle and entertainment feeds, fashion and more. Follow Magic 89.9 on Facebook, Twitter and Instagram. Here is the website: www.magic899.fm/
DWTM-FM Magic Programs
| Good Times with Mo Twister, Sam OH & Nikko Ramos | Last Call | The Rundown |
| --- | --- | --- |
| On Demand | Boys Night Out | The Meal |
DWTM-FM Magic DJs
| Aaron | Slick Rick | Jam |
| --- | --- | --- |
| Nikko Ramos | Mo Twister | Toni Tony |
| Boom Gonzalez | | CJ |
| Sam OH | Beafab | Sam YG |
| Suzy | Riki Flo | Joyce |
Contact
Address: Unit 907, 9th floor of Paragon Plaza, EDSA corner Reliance Street, Mandaluyong City
Tel: 63 0 2 638 2513