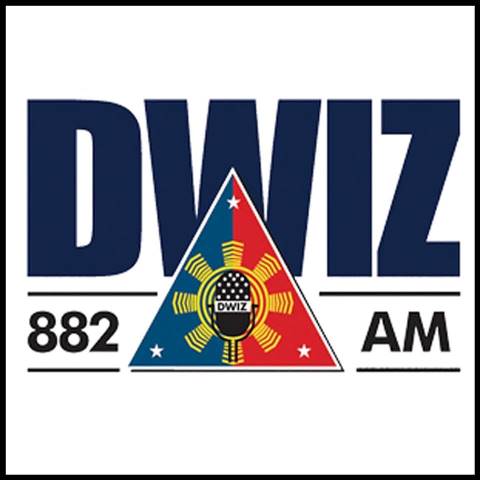 DWIZ 882 AM traces its history back to March 20, 1949 making into the Pasig City with news and talk format. Radio Philippines Network is the owner of the network while Aliw Broadcasting Corporation, a subsidiary of ALC Group of Companies manages the operation of the DWIZ 882. DWIZ-AM is rated as one of the top station in Metro Manila as per rankings given by KBP or Kapisanan ng mga Brodkaster ng Pilipinas. It is a blend of information, news, talk, entertainment and public service for the upper four economic classes. A 50,000 transmitter propagates the high quality sounds in Metro Manila area. RPN Radyo Rona stations provide relay for the channel currently managed by Ely Aligora. 800 kHz was the first frequency used by the DWIZ 882 AM until 1978. Move was made to 882 kHz in 1978. It was then known as DWIZ Sunshine City and was under the ownership of Manila Broadcasting Company. From 1972 to 1986, the DWIZ 882 AM had a predominated music format. News and informative talk were introduced in a time period from 1986 to 1991.
Find Out More Filipino FM, AM and Online Radio Stations
Listen DWIZ 882 AM Mas Todong Lakas Pasig City, Philippines
Listen DWIX 882 AM Mas Todong Laka Pasig City live from Philippines. Wait as the stream loads.

More About DWIZ 882 AM
With the takeover of Aliw Broadcasting Corporation, the format was changed in 1991. In April 1991 test broadcasts were started with a 25,000-watt transmitter and were carried out for the whole month. It became the first radio in the market to introduce Broadcast Tandem System to get news two broadcasts. For the initial years, former DZRH reporters and anchors were staffed by DWIZ 882 AM. A 50,000 w transmitter was installed in 1994. Studios were relocated to Citystate Centre in Shaw Boulevard, Pasig in 2000. First ever radio jingle was launched by DWIZ 882 AM on July 14, 2014. Upgrades were made to a 50,000-watt transmitter in 2016; this would improve the signal strength in Greater Luzon Area. 97.9 Home Radio Manila is the sister station of DWIZ 882. Audiences can listen DWIZ 882 AM online with national and international news, sports stories, entertainment programs, features, Ronda Probinsya, Special Reports, Metro Patrol, Latest Videos and more. Follow DWIZ 882 AM on Facebook and Twitter. Here is the website:www.dwiz882am.com/
DWIZ 882 AM Programs
| Siyasat | Star Na Star | Sapol Ni Jarius Bondoc |
| --- | --- | --- |
| Champ Yun Ka! | Doble Banda | Oh iz Sa DWIZ |
| Ely Morning | Rock My Salvation | Mr. Taxman |
| Push Mo Yan The | The Heart of Business | Pangga Ruth Abao Live |
| Bukid sa Himpapawid | Ecclesia in Asia | Todong Nationwide Talakayan |
| Laban Para Sa Karapatan | Balitang Naia | Anong Sey Ni Father? |
| Usapang Hugot | Sunday Memories | Kalusugang Kakabiib |
| Iz Balita Nationwide | Direk Heidi | Uy Ganyan Ang Tama |
| Pusong Pinoy | Bella Filipina | – |
DWIZ 882 AM Current Staff
| Jopel Pelenio | Jill Resontoc | Alex Santos | Jonathan dela Cruz |
| --- | --- | --- | --- |
| Jojo Robles | Crispin Aranda | Edwin Eusebio | Judith Estrada-Larino |
| James Alejandro | Madam Vi | Conrad Banal | Drew Nacino |
| Rey Pacheco | Direk Heidi Sison | Rolly Gonzalo | Marou Pahati-Sarne |
| Didi Magpayo | Anthony Suntay | Rene Jose | Susan Ople |
| Ruth Abao | | Fort Jose | Jaymark Dagala |
| George Sison | Meann TanbioEly Aligora | Jarius Bondoc | Maricel Gaskell |
| Richard Gomez | Anotonio 'Tunying' Santos | Dr. Imay Cascante | Chat Ramirez |
| Aya Yupangco | Marissa Bondoc | Atty. Lorna Kapunan | Meng Canlas |
| Ralph Obina | Noli Villafuerte | Monsignor Sabino-Vengco | Cely Bueno |
| Peter Ledesma | Bert Mozo | Pete Ampoloquio | Mar Lopez |
| Jonathan Andal | Monchet Laraño | Raoul Esperas | Obet Pagdanganan |
Contact
Address: 5th Floor, Citystate Centre Bldg., 709 Shaw Blvd., Brgy. Oranbo Pasig City
Tel: 470 1750 to 54
Fax: 470 1651
Email: aliwcreativesdept@gmail.com