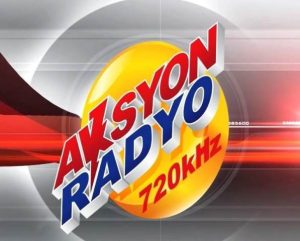 Aksyon Radyo Iloilo owned by Manila Broadcasting Company is a generalist public radio broadcasting news, info, religious and entertainment programs for its listeners in the city. It broadcasts on a frequency of 720 kHz in areas of Western Visayas, Masbate, Mindoro, Catanduanes, and Albay. Average and Max ERPs are 10,000 w and 20,000 respectively. The channel first signed on air on Sep 16, 1991 as Aksyon Radyo Iloilo and eight years later in Dec 1999 became Aksyon Radyo. DYOK-AM has strong presence in the city's market with a skilled and motivated staff of 35 including John Paul B, a renowned journalist in the area. Balanced programming is a real asset of the station.
Listen Aksyon Radyo Iloilo 720 AM Iloilo, Philippines Online
Listen Aksyon Radyo 720 AM live form Iloilo. Stream may take a moment to load.


Full List of Philippine FM, AM and Online Radios
More About DYOK 720 AM
With the best team of newscasters, anchors, announcers and reporters, the channel hosts some of the most complete public affairs programs, debates and entertainment stuff. The reach over the years has been expanded to Metro Iloilo, Cebu, Panay, Masbate, Negros Oriental, Guimaras, Romblon, Negros Occidental and Palawan. Rolly Pabillo is Chief Technician and Sonny Mondejar is the station manager. You can listen DYOK 720 AM online with news, talk, arts and cultural programs, legal advice and rest. Get connected with the station using Facebook, Google+, LinkedIn and Twitter. Here is the website: www.aksyonradyoiloilo.com.ph
DYOK 720 AM Iloilo Programs
| Puerte nga Ability | Mga Impormasyon sa Ikaayong Lawas | Sign On | Sign Off |
| --- | --- | --- | --- |
| Aksyon Balita | Firing Line | Love Story (Drama) | Aksyon Lovelines Sunday |
| Aksyon Legal | Harana sa Barangay | Universal Sovereign | Aksyon Reports Morning Edition |
| Ukay Ukay | Aksyon Lovelines | Aksyon Balita sa Ugto | Sunday Mass Coverage(Arevalo Parish Church) |
| Sumpa | Tribuna sang Banwa | Love Story | This is my Life |
| Aksyon Reports Morning Edition | Timbangan sang Katarungan | Dampig Katarungan | Tourism Academy On Air |
| Music | Gitara Musika | Remember When | Life Extension |
| Mensahe | Balita, Banat, Bulig | Pwerte nga Abiliti | Aksyon Hotline |
| Aksyon Balita | Reklamo Publiko | Aksyon Balita Numero Uno | Owa Mangunguma |
| Aksyon Night Patrol | Aksyon Reports Afternoon Edition | Mass Healing Crusade(Rev. Henry Guanzon) | – |
| Aksyon-Hotline | Balita Halin sa Kapitolyo | Firing Line | – |
DYOK 720 AM Iloilo Staff
| Mario Gelongo | Johnny Diaz | Jocelyn G. Maque | Niel Gumban |
| --- | --- | --- | --- |
| Nemesio Martirez | Cabrera Jorge | Francisco "Iko" Elbanbuena | Engr. Bem Abentino |
| Simeon Tongcua | Journey Vulcan | Aine Grace Bravo | Journey Vulcan |
| Junjun Sornito | Atilano Hilaos | Lolito Somito | May D. Ortega |
| John Paul B. Tia | Wilman Balondon | Rolly D. Pabillo | Jun Capulot |
| John-john Sapio | Francisco "Kikik" Enar | Mark Anthony Rivera | Joecel C. Bañas |
| Deo Lara | Elnie D. Muñoz | John Sapio | Jonathan A. Himalaya |
| Chris Robles | Ada Autencio | Renan Baydo | – |
Contact
Address: Suite 301 Carlos Uy Bldg., Diversion Road, Mandurriao, Iloilo City 5000 Philippines
Tel: +63 33 3202634
+63 33 5084127
Mob/Text: +639184777773
Fax: +63 33 3202634
+63 33 5084127
Email: aksyonradyoiloilo@gmail.com