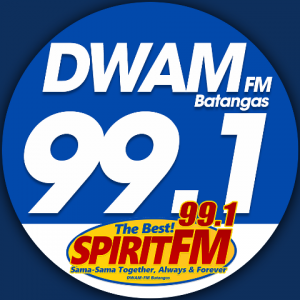 99.1 Spirit FM launched on May 8, 1999 is a Batangas City station broadcasting Pop, Christian Music and Original Pilipino Music. Archdiocese of Lipa. through Radyo Bayanihan System has the ownership to FM. ALFM 95.9 Radyo Totoo is the sibling of Batangas-based radio operating from 2nd floor, Balmes Building, Barangay 7C. Tirona St. Batangas City. It was initially launched as an all-disco radio under Fr. Mike Samaniego. DJ Joseph was with Mike in beginnings – he had started his career in Sydney Australia – and was joined by Fr. Nonie Dolor nicked The Niteowl.
More Philippines FM, AM and Online Radios for Listeners
Listen 99.1 Spirit FM Batangas, Philippines Online
Listen 99.1 Spirit FM live form Batanga, Philippines.
<Stream is currently unavailable!>
More About 99.1 Spirit FM
The later left its more than decade long host in 2014. DWAM were the call letters previously in use by the sister of the FM. AL-FM 95.9 Radyo Totoo and DWAM migrated to the currently-held Balmes Building on May 21, 2015. On air time got increased to 24 hours in February 2017. The channel was leading the Batangas-Lipa market until March 1, 2015 when Brigada News FM became #1. However, it regained its position as premier with 47% share in Sep 2017 surveys.
99.1 Spirit FM DJs
| Raynuts Andy | Mark | Louie | Joseph |
| --- | --- | --- | --- |
| Skye | Dominique | Jimmy | – |
Contact
Tel: 043 300 4518