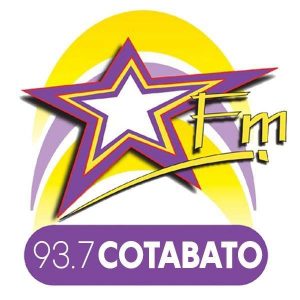 93.7 Star FM Cotabato first singed on air on Feb 23, 1998 is a CHR of Bombo Radyo operating in Cotabato City and adjoining facilities. The channel quickly rose its level to the point where it can be admired by the listeners it fed music to. The station was formed after the merger of Star FM General Santos with Star FM Koronadal. Best news, music and entertainment with factual information is what DXFD-FM brings to the people of Cotabato. The radio aims to promote civic sense and social welfare in its community through programs like Dugong Bombo and Bombo Medico.
Full List of Filipino Music and News Radios
Listen 93.7 Star FM Cotabato, Philippines Online
Listen 93.7 Star FM online from North Cotabato. Wait as the player loads.
More About 93.7 Star FM Cotabato
Having a radio broadcast legacy nearing two decades is as amazing as the listeners of the music station. It has been finalist at a number of awards including 25th Golden Awards for Best Documentary and Best News Feature at 39th CMMA. You can listen Star FM 93.7 online with news, talk and Top 40 charts. Follow DXFD-FM on Facebook and Twitter. Here is the website: www.bomboradyo.com/starfmcotabato
Programming
| Star Sunday (with Featured Artists) | Vault of Rock | Star FM's Perfect Ten Countdown (REPLAY) |
| --- | --- | --- |
| Afternoon Starsweep | All Star Sunday | BNN Noontime Edition |
| Sunday Disco Flashback | Pinoy Morning Na | It's All For You in the Evening |
| It's All For You in the Morning | Morning Starsweep | BNN Evening Edition |
| BNN Morning Edition | It's All For You in the Afternoon | BNN Evening Edition |
| Afternoon Starsweep | Morning Starsweep | Sunday Night Sweep |
DJs
Contact
Address: 5th St. Don E. Sero, Rosary Height V, Cotabato City
Tel: 064 552 1783 064 421 3181
Email: starfm_cotabato@bomboradyo.info