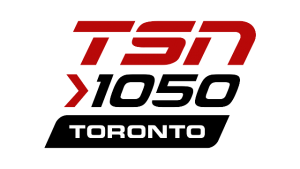 TSN 1050 is a Toronto based Sports format Canadian radio established in 1945 and is currently owned by Bell Media. Dept. of Transport granted York Broadcasters a license for a 1,000 w radio in 1944. The construction of the facilities of the channel was not completed by the September of 1945; CHUM hit the waves on Oct 28, 1945 from its studios and offices at 21 Dundas Square. The transmitter site of the station was changed to Yonge Street, North York on May 18, 1955. ERP was increased to 2,500 w in 1957. CHUM at that time was offering Top 50/hit music format. Wattage was once again increased to 5,000 w in on June 12, 1958 and studios and offices were relocated to 1331 Yonge St. The name of the company was changed to CHUM-1050 Ltd. on Aril 27, 1959. CHUM-FM went on air in Sep 1963. Effective radiated power was increased to 50,000 w in Aug 1964. The owner was renamed as CHUM Ltd. on May 12, 1967.
Complete list of Ontarian and Canadian Radios for Listeners
Listen TSN 1050 Toronto, ON Online
Listen TSN 1050 (CHUM-AM) online from Toronto, Ontario. Wait as the stream loads.

More About TSN 1050 AM
CHUM was trailing CFRB in 1980 being #2 in the ratings. Format was switched to Adult Contemporary in 1986. Soft Rock format was introduced in the beginning of 1988. The radio made a shift to All-Sports format on May 7, 2000 but had to return to oldies in August 2002 after incurring consistent losses. CHUM on Dec 12, 2006 officially became a part of Bell Globemedia. CHUM was rebranded as CP24 Radio 1050 on March 26, 2009 but was finally renamed as TSN Radio 1050. Audiences can listen TSN 1050 AM online with a wide volume of sports coverage that includes NHL, CFL, NBA, MLB, Soccer, Golf, UFC, Tennis and more. Podcasts, live shows, news about Toronto Maple Leafs, RAPS, JAYS, contests and more is available online. Follow the TSN (Toronto 1050) on Facebook and Twitter. Here is the website: http://www.tsn.ca/radio/toronto-1050
TSN Shows
| Cabbie Presents: The Podcast | The College Football Show | CFL Weekly | OverDrive |
| --- | --- | --- | --- |
| Toronto Today | Jr. Hockey Magazine with Gino Reda | TSN 4 Downs | TSN Hockey Analytics |
| Leafs Lunch | Golf Talk Canada | The Scott MacArthur Show | – |
| Naylor and Landsberg in the Morning | Home Court | Toronto Argonauts Games | – |
Contact
Tel: 416 870 1050
855 591 6876
Email: live@tsn1050.ca