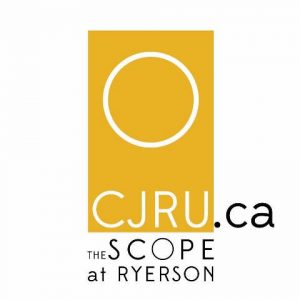 The Scope (CJRU-AM) is a campus and community radio owned by Ryerson Radio Incorporated and launched on March 31, 2016. The low powered campus station was given a frequency of 1280 kHz and an ERP of 99 w by CRTC upon approval of Dec 11, 2014. After some crucial testing the Ryerson University station officially singed on air on March 31, 2016. A previous applications was deferred by CRTC on Sep 11, 2012; the license was won by CIND-FM that would host indie rock. It succeeded CKLN-FM which was active from 1983 to 2011 before getting closed due to compliance issues. The mistrust caused by the predecessor didn't hinder the FM from serving the community and college. Bob Wiseman, Blue Rodeo and Ron Sexsmith were instrumental in the foundation of the radio.
Listen The Scope (CJRU 1280 AM) Toronto, ON Online
Listen The Scope at Ryerson (CJRU-AM) online from Toronto, Ontario. Wait as the stream loads.

Complete list of Canadian and Ontarian Radios for Listeners
More About CJRU 1280AM
The Scope currently broadcasts 120 hours of content per week which includes community driven local programs and Canadian programming. Music includes folk, pop, rock, acoustic, dance, jazz, hip hop, blues and others. Spoken word programs and specialized content for the specific groups living within the community is also aired on regular basis. Volunteers from the community an NCRA program exchange also make the majority of the variety. The Scope provides training to the students and community members equipping them with the broadcasting techniques and ethics. Audiences can access campus community media and appreciate citizen journalism and civic service carried by the radio. Station Blog, videos, music, latest news, events, album review and more is online. Follow The Scope on Facebook and Twitter. Here is the website: www.thescopeatryerson.com
The Scope 1280AM Programs
| Democracy Now! | !Earshot 20 | The Rodeo | The Perfect Pitch |
| --- | --- | --- | --- |
| The Night Shift | The Lowkey Report | Echo Beach | The Night Shift |
| Central Vibes | New Canadian Life | Access Files | The Food Fix |
| FEMRADIO | Latin Waves | Spazzy Nights | Something Completely Different |
| From the Classroom | Canadadry | The Middleday Variety | Live 55 |
| 18 Karat | Built to Play | Veg out | Urban Spotlight |
| Wings | Double Booked | Scope Drama | True Stories Told Live |
| 700 Rivers | The Star Spot | Make u a Mixtape | Polcast |
| The Scope After Hours | The Mix Sessions | All About the Funk | Pivotcast |
| Word on the Street | The Scope News | Rise & Grind | Fly on the Windshield |
| The Hum | Perfectly Queer | Every Day We're Hustling | The Exchange District |
| Ryerson Today | Soft Rains | CJRU 30 | The Selvatica Sessions |
| Song Talk | YRU | Metal on Metal | The B & D Approach |
| Terra Informa | New Leaf | Radio Free Krypton | Ryerson's Ryecast |
| Stories from the Core | Morning Mixtape | Neighbourly News | Canada Dry True North |
Contact
Address: The Scope at Ryerson
55 Gould Street – Rm 201
Toronto, ON M5B 1E9
Tel: 416 904 6889
Email: admin@thescopeatryerson.ca