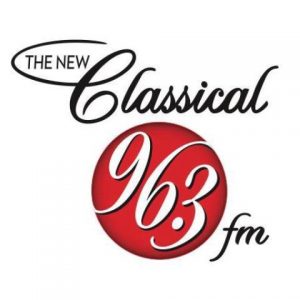 The New Classical FM 96.3 Toronto launched in 1988 is a classical format and talk radio owned by ZoomerMedia. Different Drummer Communications was able to win the 96.3 MHz in April 1988 after getting a license of an FM radio. CFMX-FM Cobourg was near to getting a repeater for Mississauga, CFMX-FM-1 and would air on the newly earned 96.3 MHz frequency with a power of 19,100 w; the channel was launched on Oct 7, 1988. ERP was increased to 43,100 w in August 1990. The class C station later in 1993 became Classical 96 & 1-3 FM on Sep 3, 1993 and moved to Toronto in November. The new corporate name of Drummer was Trumar Communications Inc. in 1998. The wattage was incremented to 24,500 watts in 2005.
Explore More Canadian and Ontarian Radios
Listen The New Classical 96.3 FM Toronto, ON Online
Listen The New Classical 96.3 FM online from Toronto, Ontario. Wait as the stream loads.
More About The New Classical 96.3 FM
CFMX-FM-1 became CFMZ-FM after MZ Media Inc. purchased the station from Trumar in Aug 2006. MZ Media acquired CHWO-AM 740 from Primetime Radio Inc. in 2008; CHWO was rechristened as CFZM in the same year. Zoomer Media acquired the radio in 2010 as a part of intercorporate reorganization in the company. CRTC renewed the license of the channel on in July 2011 until Aug 31, 2015. Audiences can listen to The New Classical 96.3 FM online with hosts and programs info, news, contests (The Oasis Giveaway, Sousatzka Contest, Koerner Hall Contest, Canada Blooms, The Bodyguard, Bill's Classical Jukebox Giveaway), events and more. Follow the station on Facebook and Twitter. Here is the website: www.classicalfm.ca
Shows
| Sunday Night at the Opera | Sunday Night with the TSO | Conductor's Choice |
| --- | --- | --- |
| Nocturne | Classical Mornings with Mike and Jean | A Little Night Music |
| Pop Classics | Bill's Classical Jukebox | Dinner Classics |
| Destination Classics | The Oasis | The Chopin Liszt |
| Zero to 1800 | The Zoomer Report | By Request |
| In the Still of the Night | Breakfast Classics | Classical Chartz |
Hosts
| Kathleen Kajioka | Marilyn Lightstone | Jean Stilwell | Alexa Petrenko | Michael Kramer |
| --- | --- | --- | --- | --- |
| Paul Thomas | Libby Znaimer | Bill Anderson | Mike Duncan | Kerry Stratton |
Contact
Address: 1 Queen Street, Suite 101, Cobourg, ON K9A 1M8
Mailing Address: PO Box 1031. Cobourg, ON K9A 4W5
Tel: 905 372 4366
Fax: 905 372 1625
Email: S.Mark@classical1031fm.com