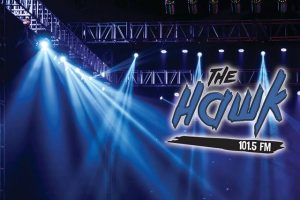 The Hawk 101.5 FM is a campus radio station of Mohawk College and owned by Mohawk College Radio Corporation. The beginnings were with launch of carrier current station CHMR in 1975, made for campus and broadcasting only to the student lounge located near the studios but was later in 1980s available via Mountain Cable and another local cable service. Years later on June 6, 1997 The Mohawk College Radio Corp. was granted a license for a full time not-for-profit campus/instructional FM broadcasting on a frequency of 101.5 MHz using an ERP of 160 w.
Listen The Hawk 101.5 FM Hamilton, ON Online
Listen The Hawk 101.5 (CIOI-FM) online from Hamilton, Ontario. Wait as the stream loads.

Full List of Ontarian and Canadian Radios for Listeners
CIOI 101.5 branded as C101 hit the waves on March 23, 1998 from its studio facilities at the Fennell Avenue Campus as a second community-campus radio, CFMU-FM of the McMaster being the first one. With a temporary transmitter the radio operated with an ERP of 40 w but was later replaced with a full power 160 w permanent transmitter installed on the Cogeco Cable Tower. There was name change: INDI 101 in Oct 2009 with the overwhelming dominance of independent music coming in studios. CRTC validated the license of the station on Dec 21, 2012 until Aug 31, 2018.
More About The Hawk 101.5 FM
Once again on Jan 8, 2014 the station was rechristened as The Hawk 101.5 to broadcast Hamilton's Alternative. Sticking to its license of being an instructional and educational station, The Hawk 101.5 FM is a platform that operates within the framework set by the outlines and curriculum given in Broadcasting program and Journalism courses. CIOI is the home on non-mainstream therefore, promotes local bands and Canadian music rare in its nature. A local musical festival called C+C music partnered between CIOI and fellow campus FM CFMU aims at supporting the local Hamilton artists. Get social with The Hawk 101.5 FM on Facebook and Twitter. Here is the website: www.1015thehawk.ca
Hawk 101.5 FM Programs
| Hawk Mix | The Soundtrack Show with Mark | Evening Asylum with Jayme Allen | Sunday Night Blues |
| --- | --- | --- | --- |
| Café Chalice with Matthew | Under the Covers with John Conway | Redeem the Beat | Dybkar's Cookie Jar |
| The Reverend Radio Show with Shawn Sexton | Country Cruise with DJ Tumbleweed | Tala's Show | Echo & Reverb with Ryan |
| Haley and Jeremy Show | Afternoons with Uncle Mike | Spanish Show | The Court Jester |
| BeatlesMania with Kyle | Will Power Radio Show | Marc Bradley Show | SuperConnected with Lucas Shane |
| Amanda Bullard Show | Art Waves | Afri-Carribean Show with Elas | Polish Show |
| Blues Blast with Ken | What she said with Alyona | Centre Stage with Lyla Miklos | – |
| Hawk Overnight | Mr. Rock & Roll Show | Chinese Horizons with Oliver | – |
Contact
Address: 135 Fennell Avenue West
Room F111
Hamilton, ON L9C 0E5
Tel: 905 575 2175
905 575 2101
Fax: 905 575 2420
Email: hawk.music@mohawkcollege.ca