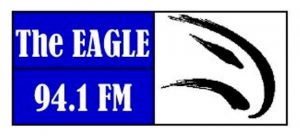 The Eagle 94.1 FM (CIMG-FM) launched in 1979 is a Swift Current station that broadcasts classic and contemporary rock hits for its listeners in Saskatchewan. CKSW and CKFI-FM are the siblings of the The Eagle 94.1 currently owned by Golden West Broadcasting. The Eagle 94.1 traces its history back to April 12, 1979 when Norman Edward Soper was successful in getting the approval of CRTC for and FM station in the Swift Current. Initially launched with a Mix music (Pop, Rock and Dance) format the CIMG-FM would broadcast on a frequency of 94.1 MHz with an ERP of 100,000 watts.
Get More Radios form Saskatchewan and Canada
Listen The Eagle 94.1 FM Swift Current, SK Online
Welcome to the Golden West Streaming. Listen The Eagle 94.1 (CIMG) Swift Current, Saskatchewan Online. Wait as the player loads the stream.
More About The Eagle 94.1 Swift Current
On October 20, 1979 the Pop and Rock station singed on air under the banner of Grasslands Broadcasting Ltd, a company jointly held by six partners. Frontier City Broadcasting Co. Ltd. received the permission from CRTC to acquire the CIMG from Grasslands which faced the issues like foreground, faulty logger tapes and consistence non-compliance with regulations. Frontier sold out the CIMG-FM to Golden West Broadcasting in 1996 which (CIMG) was branded as The Eagle 94.1 on September 3, 1997 and became Swift Current's Rock radio. CRTC renewed the license of the 94.1 FM on May 28, 2010 with a validation up to August 31, 2016. On the official website (SwiftCurrentOnline.com) of the The Eagle FM audiences can have local and would news, sports stories, Agricultural news, road reports, weather forecasts, funeral announcements, community events, contests, (Eagle Applause, Birthday of the Day, KidSafe Colouring Contest) Extras (Game Central via Swift Current Online) and more. Here is the website: The Eagle 94.1 Swift Current
Personalities
| Eric James | Mark Soper | Schultz's Ranch | Colin Powers |
| --- | --- | --- | --- |
| Ken Audette | Beth Marie | Klarke Braaten | – |
Contact
Address: 134 Central Avenue North
Swift Current, SK
S9H 0L1
Tel: 306 773 0941
306 773 6397
306 773 4605
Email: eaglecontrol@goldenwestradio.com
msaretsky@goldenwestradio.com