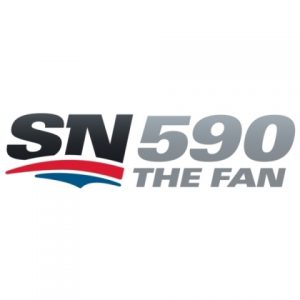 Sportsnet 590 The Fan aka CJCL-AM is a Sports and talk radio present in Toronto, ON and owned by Rogers Media. Foster Hewitt's application wsa approved by CBC Board to set up an AM station that would operate on a frequency of 1400 kHz using an ERP of 250 w. Foster Hewitt, a well-known broadcaster who started his career in Toronto Star owned CFCA had since his debut become a voice loved by a large number of Hockey fans. Having his deep passion for and knowledge of the game and expertise and experience in broadcasting, the NHL Hockey broadcaster received the final approval form the CBC by the end of 1950. On Feb 21, 1951 the channel was launched as CKFH using the proposed wattage and frequency. Year 1952 and 53 is known for the controversies as Foster filed a lawsuit against Brooklyn Dodgers (1952) and accused CKEY of pirated broadcasts of Hockey games (1953). Frequency was switched to 1430 kHz and ERP was increased to 5,000 w in July 1959. The independent radio by the year 1964 had an increased daytime wattage of 10,000 w while the nighttime power remained 5,000. Top 40 became the evening format of the radio in 1966 and was adopted as full time in 1967 with also increasing the nighttime wattage to 10,000 w.
Complete list of Ontarian and Canadian Radios for Listeners
Listen Sportsnet 590 The Fan Toronto, ON Online
Listen Sportsnet 590 The Fan (CJCL-AM) online from Toronto, Ontario. Stream may take a moment to load.
More About Sportsnet 590 The Fan
It had subscribed to Broadcast News in 1969. Effective radiated power was increased to 50,000 w in 1970. CKFH got its hand on Toronto Maple Leaf Hockey games rights in 1980 after getting outbid by CKO two years ago. Telemedia Ontario Inc., a subsidiary of Telemedia Communications Inc. acquired the radio from Hewitt in Feb 1981; AC was the new format. Sportsnet 590 The Fan was branded as Metro 1430 on March 21, 1981 and new calls effective on April 10 were CJCL-AM. Earlier in 1983 the channel moved to a predominant talk format but soon returned to Adult Contemporary. In 1984 Telemedia Broadcasting System became the country's first national satellite distribution system for specialized sports content. Foster Hewitt, the founder passed away in April 1985. It adopted an oldies format in 1989 and incorporated an all-sports format on Sep 4, 1992. 590 kHz was the new frequency effective in Feb 1995. Rogers purchased the channel from Standard Radio Inc. in April 2002. Sportsnet 590 The FAN rebranded in 2011 received an administrative renewal in August 2012 until Aug 2013. Audiences can listen Sportsnet 590 The FAN covering live sports including Toronto Blue Jays, Toronto Maple Leafs, Buffalo Bills and a number of national and international events from Hockey, Baseball, Football and Basketball online. The official site of the Sportsnet 590 The Fan has a lot more than you would expect. Shows info, contests, events, podcasts, videos from MLB, NBA, NHL and NFL, Highlights, Tim & Sid, Ron & Don, SN Now, SN World and more can be accessed on the web-portal. Follow the CJCL-AM on Facebook, Twitter, Google+ and YouTube. Here is the website: www.sportsnet.ca/590
Sportsnet 590 The Fan Shows
| Toronto Blue Jays Radio | Toronto Maple Leafs Radio | The Sportsnet Hot Stove | Toronto Raptors Radio |
| --- | --- | --- | --- |
| The Jeff Blair Show | Grapeline | The Andrew Walker Show | Baseball Central |
| Sports Interaction's Inside The Lines | TFC Pitchside | Sportsnet Tonight | Raceline Radio |
| Sportsnet's Starting Lineup | Aces | Leafs Nation | Blue Jays Talk |
| Sportsnet Overnight | The Fantasy Show | Prime Time Sports | The Golf Show |
| Sportsnet Today | Hoops | Outdoor Journal Radio Show | Hockey Central At Noon |
Contact
Address: Sportsnet
One Mount Pleasant Rd.
Toronto, ON
Canada
M4Y 3A1
Tel: 1 888 451 6363
416 870 0590
1 888 666 0590
Email: feedback@sportsnet.rogers.com
contact@sportsnet590.ca