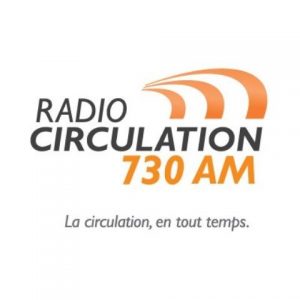 Radio Circulation 730 AM established on Sep 27, 1922 is a Traffic Information radio owned by Cogeco. L'état de la circulation and La circulation, en tout temps are the catchphrases. Federal Department of Marine and Fisheries in April 1920 approved La Compagnie de Publication "La Presse" Ltée. to set up station in Montreal. The calls: CKAC-AM were approved by authorities on May 2. After some days of signal tests in Sep, the radio officially went on air on Sep 27, 1922. It was news radio with a lot of news including local, national and international, weather stocks and the rest. CKAC-AM was airing for 12.5 hours each week; a 2,000 w transmitter was powering the transmission. An official inauguration ceremony of the CKAC 730 AM took place on Oct 2, 1922. Multilingual radio increased its ERP to 3,000w in 1923. By the year 1925, Circulation 730 AM was covering political events, assembly speeches and election results etc. 730 kHz was the newly chosen frequency in the same year. In the years 1928 and 1929 sports including Hockey games and baseball were introduced at the studios. Wattage was increased to 50,000 w and weekly programming was boosted to 108 hours per week in May and March 1930. With a reach to approx. 1 million Francophone listeners in Montreal market, Circulation 730 AM was doing a great job. Studios were relocated to St. Catherine street in 1936.
Listen Radio Circulation 730 AM Montreal, QC Online
Here is CKAC-AM: La circulation, en tout temps! Listen Radio Circulation 730 AM (CKAC-AM) online from Montréal, Québec. Wait as the player loads.

Enjoy More Quebec and Canadian FM,AM and Online Channels
Under Havana Treaty, Circulation 730 AM was to operate on 900 kHz with 5,000 w., however CKAC-AM was somehow able to take the immunity and remained airing on the already active dial. Power was increased to 10,000 w in June 1948 and the AM was second such private radio after Toronto-based CFRB. By year 1958, the transmitter was operating with a wattage of 50,000 w. Offices were moved to 1400 Metcalfe Street in Mid 60s. La Presse sold the CKAC 730 AM to Philippe de Gaspé Beaubien who later in 1973 formed Télémédia Radio Network. Studios were shifted to 1411 Peel Street in 1990.
More About Radio Circulation 730 AM
Telemedia and Radiomutuel Inc. which recently had a merger of their AM facilities in 1994, agree upon a deal which would see Télémédia Communications Inc. acquiring Circulation 730 AM. At that time (late 90s) the radio was increasingly leaning to sports format having broadcasting rights to a number of hockey and football games. Astra Media took control of the assets owned by Télémédia in 2002. CKAC-AM was purchased by Corus Entertainment in Jan 2005. News bulletins were terminated after 80 years of existence. Longtime News and Talk format was removed in favor of an all sports format in April 2007. At the end of year 2010, ownership was again changed when Cogeco came forward to take the ownership of Corus Quebec assets. On Sep 6, 2011, the channel was rebranded as Radio Circulation 730; with the new identity Radio Circulation adopted a completely new format of traffic, road reports and weather conditions. Follow Radio Circulation 730 AM on Facebook and Twitter. Here is the website: www.radiocirculation.net
Contact
Address: 800, Rue de la Gauchetière Ouest, Bureau 1100, Montréal Qc H5A 1M1
Tel: 514 787 0730
514 790 0231