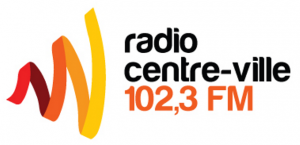 Radio Centre-Ville 102.3 is a multilingual and multicultural not-for-profit community radio owned by Radio Centre-Ville Saint-Louis. Operating from Montreal, the station was granted a license by Canadian Radio-television and Telecommunications Commission on Oct 21, 1974 with a frequency of 99.3 MHz using an ERP of 7,200 w. CINQ-FM (legal name) hit the waves on Jan 27, 1975. CRTC authorized the frequency change to 102.3 MHz and ERP of 36 w in 1976. Power was increased to 50 w in 1985 however, a request to further increase the effective radiated power to 1,545 w in 1988 was turned down by the Canadian commission. Nevertheless, Radio Centre-Ville ultimately received the permissions to increase its transmitter power to 1,545 w in March 1990. Wattage was decreased to 1,285 w in 1991. CRTC validated the broadcasting license of the station on Dec 14, 2012 for a seven year term until Aug 31, 2019. Once again the max and average wattages were incremented to 2,100 and 1,237 watts respectively in 2015.
Listen Radio Centre-Ville 102.3 FM Montreal, QC Online
Listen Radio Centre-Ville 102.3 FM: Radio Communautaire et Multilingue de Montréal, Québec. Wait as the player loads.

More About Centre-Ville 102.3
CINQ-FM established with the support of various ethnic groups in the Saint-Louis neighborhood, being a non-profit organization belonging to its members wants above all the improvement of the living conditions of our listeners. It promotes the free flow of ideas by giving the microphone to the voiceless, the forgotten ones of the mass media. According to the Centre-Ville 102.3 it enriches the Montreal community by making music, culture and ideals of people known here and abroad. To fight against all forms of discrimination and are the pioneers of diversity is the mission of the Centre-Ville 102.3. Radio Centre-Ville broadcasts in eight languages: French, English, Spanish, Greek, Portuguese, Creole, Mandarin and Cantonese. The radio is like the mosaic of cultures and ideas that make up Montréal a centre of musical and multicultural discoveries, a wonderful experimental stage for creators and creators. 350 passionate volunteers are the people proudly taking up the challenge of articulating the singularity and universality of the communities that make up the social fabric of Montreal. You can listen the CINQ-FM 102.3 online with actualités, Nouvelles, Événements and more. Follow Centre-Ville 102.3 on Facebook, Twitter and YouTube. Here is the website: www.radiocentreville.com
Contact
Address: 5212 boul. St-Laurent
Montréal, Québec H2T 1S1
Canada
Tel: 514 495 2597
514 495 1540
Fax: 514 495 2429
Email: cinqfm@radiocentreville.com