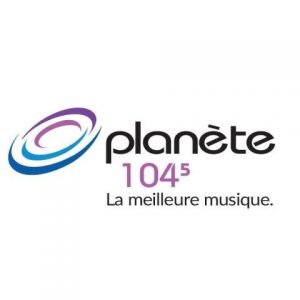 Planète FM 104.5 is a Saguenay based French language Adult Contemporary station owned by RNC Media. Mon Unives Musical is the catchphrase of CFGT-FM. Radio Lac St. Jean Ltee was approved to set up an AM radio with a frequency and ERP of 1270 kHz and 1,000 w in October 1953. The channel singed on air on Oct 26, 1953 as an independent station. ERP was approved for increase to 10,000 and 5,000 watts for day and nighttime respectively. Gilbert Pedneault Ltée became the owner in July 1984. The radio announced its affiliation with Radiomutuel network in 1977. Upon it renewal in 1989, CJMS Montreal affiliate was declaring its pledge to produce at least 60.5 hours of local programming. Request made to CRTC for the switching of station to FM band was denied in 1993. CKYK-FM Inc. following an intra-corporate reorganization acquired it in 1999. Canadian Radio-television and Telecommunications Commission which denied the owner Groupe Radio Antenne 6 Inc. a new FM licensing in Alma area in 2008 approved a new FM that would broadcast on a frequency of 97.7 MHz using an ERP of 50,000 w.
Full List of Canadian and Quebec Radios 
Listen Planète FM 104.5 Saguenay, QC Online
Écoute en direct! Listen Planète Alma 104,5: La radio #1 du Lac St-Jean online from Québec. Stream may take a moment to load.

More About Planète Alma 104,5
42 hours of local programming including 15 hours of spoken word would be produced by the new adult contemporary station meant for the audiences between ages of 25 and 54. However the applicant in March 2010 got permission by CRTC to replace 97.7 MHz dial with 104.5 MHz. The radio singed on air on Oct 13, 2010 as Planète 104,5. CHRL, CKXO, CKYK and CHVD are the sisters of Planète 104,5. You can listen CFGT-FM online with Grille des émissions, Animateurs, Baladodiffusion (Podcast), concours (Les concerts de la Planète), Photos et vidéos, nouvelles locales, À ne pas manquer, liens donnés en ondes and more. Follow the station on Facebook and Twitter. Here is the website: www.alma.planeteradio.ca/
CFGT-FM Programmation
| Le 4@7 | Les Soirée Planète – Weekend | Les Soirées Planète |
| --- | --- | --- |
| Planète Radio au Boulot PM | Planète Week-end – 100% musical | Planète Radio au Boulot AM |
| Jukebox Week-end | Midi Mix | Debout la |
| Debout la Planète | Planète Week-end | – |
| Jukebox | Planète Mix Week-end | – |
CFGT-FM Amimateurs
| Maxime Simard | Caroll Guay | Mélodie Lapointe | Annie-Claude Dumais |
| --- | --- | --- | --- |
| Claude Bergeron | Katherine Boulianne | Annie-Claude Brisson | – |
Contact
Address 1: 345, rue Des Saguenéens
Ville de Saguenay (Québec) G7H 6K9
Tel: 418 543 8912
Address 2: 460 Sacré-Coeur Ouest
Alma, Quebec, G8B 1L9
Tel: 418 662 6888
Email: dgagnon@radiox.com