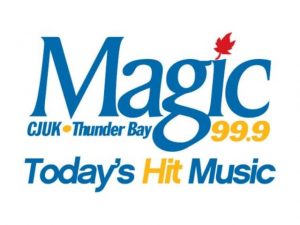 Magic 99.9 launched in 2001 is a Hit Music/Hot AC station owned by Acadia Broadcasting and operates in Thunder Bay area. Big Pond Communications 2000 Inc. was granted by permissions by Canadian Radio and Television regulatory authority 'CRTC' to set up an English language commercial radio that would operate on a frequency of 99.9 MHz using an ERP of 37 w. Legally known as CJUK-FM and branded as Magic 99.9 the station went on air at the end of the Aug 2001 from its studios at 995 Memorial Avenue. Newcap Inc. was approved by CRTC to make purchase of the channel from Big Pond in 2005.
Listen Magic 99.9 Thunder Bay, ON Online
Listen Magic 99.9 online from Thunder Bay, Ontario. Wait as the player loads.
Full list of Ontarian and Canadian Radios for Listeners
Amends were made in the licensee of the CJUK-FM powering ERP to 250 w with change in other authorized contours and technical parameters. Northwoods Broadcasting Ltd. on Dec 2, 2009 was given a yes by commission to acquire CJUK at Thunder Bay and CKTG-FM (purchased by Newcap Inc.in 1988) from Newcap. Northwoods Ltd. was merged into its parent Acadia Broadcasting Ltd. on Feb 3, 2012 as a result Acadia Broadcasting Ltd. currently has the all the effective control and direct ownership. You can listen the news and weather updates, access business directory, explore events calendar, Join Magic 99.9 Listener Club and participate in contests from the online facility. Be social by joining the Magic on Facebook and Twitter. Here is the website: www.magic999.ca
Magic 99.9 Programs and Personalities
| Thunder Bay Mornings with Trent & Sarah | Ryan Seacrest |
| --- | --- |
| AJ Leite | Brad Best |
Contact
Address: MAGIC 99.9 CJUK
200-180 Park Ave
Thunder Bay ON
Tel: 807 344 2000
807 345 9925
Email: magic@magic999.ca