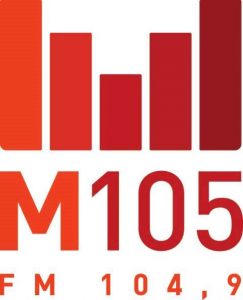 M105 104.9 FM is a Granby Easy listening radio owned by La Coopérative de travail de la radio de Granby. Guy Laporte is the current Director General. The company was formed following the closure of CHEF-AM 1450 in January 1996 by some former employees of the station who began to launch a new FM radio station, a first for Granby and its region. The regional Francophone population immediately supported the project with enthusiasm. With this support, La Coopérative was established.
Listen M105 104.9 FM Granby, QC Online
Welcome to M105 la radio de la Haute-Yamaska! Ecoute en Direct! Listen M105 online from Granby, Québec. Wait as the player loads.

Get Full List of Canadian and Quebec FM, AM and Online Radios
In April 1997, La Coopérative obtained a license from the CRTC to operate radio station CFXM-FM branded as M105 on a frequency 104.9 using an ERP of 200 w. A parallel request made by Radio Concept Inc. was rejected. The channel would broadcast 126 hours of programming each week. Before the official opening of the station, the company emerged as the winner of the contest "Devenez entrepreneur" organized by the Entrepreneurship Institute of Quebec. It won three prizes, including the first national prize. In January 1998, the Greater Granby area was hit hard by the ice storm. During this period, CFXM-FM plays a leading role in linking regional authorities with the population. All of them welcome the work done by the team in place. In 1999, the channel again was decorated by the Montreal Cooperative Regional Development Cooperation (CDR) award for the Relève coopérative du Grand Montréal.
More About M105 104.9 FM Granby
On Aug 14, 2008, Canadian Radio-Television and Telecommunications Commission renewed the license of the station until Aug 31, 2015. Also on August 13, the approval of increase in ERP to 1184 w was made by the commission. Since its opening, the radio has been the voice of community organizations in the region. The station never hesitates to get involved to increase outreach and foster the development of the social economy. Concours, Émissions, Actualités, Activités et spectacles, Blogue, Commentaires, Top 20, Réécoutez nos entrevues, la vie d'ici, mentionné en ondes and more can be have online. Follow CFXM-FM on Facebook, Twitter and YouTube. Here is the website: www.m105.ca
CFXM-FM 104.9 Programmation
| M105 le matin | 100% Musique M105 | Maximum 80 |
| --- | --- | --- |
| M105 au travail (am) | M105 au travail (pm) | Les Midis M105 |
| Le Retour M105 | Les soirées rendez-vous | La Féria du weekend! |
| M105 le matin weekend | Le Décompte M105 | Les week-ends qu'on M |
CFXM 104.9 FM Animateurs
| Marie-Ève Dupré | Carolina Hernandez | Martin Désilets |
| --- | --- | --- |
| Mathieu Majeau | Jean Moreau | Véronique Dupont |
| Mélissa Dion Des Landes | Marlon Desmeules | – |
Contact
Address: 135 rue Principale, Bureau 35
Granby, Québec, J2G 2V1
Tel: 450 372 5105
Contest Line: 450 777 0540
News Line: 450 372 5105, Ext 32
Fax: 450 372 3105