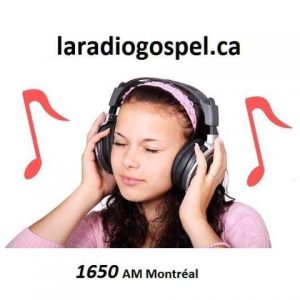 La Radio Gospel legally known as CKZW-AM is a News, Talk and French Gospel station launched and owned by Robert Levy. Radio Chalom was granted a license on March 15, 2006 to set up a religious format radio in Montreal that would broadcast in French, Hebrew and English. Initially launched as a Jewish community radio; it was planned to broadcast on a frequency of 1650 kHz using an Effective radiated power of 1,000 w. Apart from special interest music, 33% of weekly content would be dedicated to spoken word while 11 hours would make news and informative programming. Almost 90% of the programming would be religious and 10% content would be syndicated. Multicultural station was meant to serve different religious communities in Montréal including Christians, Hindus, Jews and others.
Listen La Radio Gospel 1650 AM Montreal, QC Online
La radio Gospel c'est votre radio chrétienne! Stream may take a moment to load.

More Canadian and Quebec FM, AM and Online Radios
Test transmissions were launched in Feb 2007 before CJRS-AM officially hit the waves on May 5, 2007 from its studios at 4835 Côte St. Catherine Road, Suite 2. A mix of talk in French, Hebrew and English was making a balance programming. In April 2016 the channel was rechristened as Christian Gospel station with legal calls: CKZW-AM. André Joly is the current President and Daniel Poulin is director operations. It lost its Jewish foundation and identity because of the costs needed – coming from Charity and volunteer sport – to keep it operational. Le son gospel du Québec is the slogan of the now Gospel station. Audiences can listen Montreal Christian Radio, get Nouvelles, Émissions en français, English programming and find articles récents and rest on the official site. Follow CKZW-AM on Facebook and Twitter. Here is the website: www.laradiogospel.ca
Contact
Tel: 514 504 9942
        514 656 1317
Email: ckzw@videotron.ca