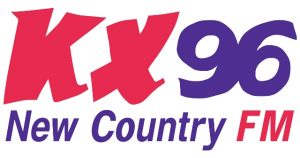 KX96 legally known as CJKX-FM is an Ajax based New Country format station owned by Durham Radio Inc. Williams Jones received the license from Board of Broadcast Governor on Feb 8, 1967 for an AM station CHOO that would air on a frequency of 1390 kHz using a 10,000 watt-transmitter from studios located at 97 McMaster Avenue. CHOO started its broadcasts on Nov 21, 1967 and by 1968 it became a 24 hour service. CHOO was purchased by Community Communications Inc. purchased in 1973; format was changed to 60% soft rock and 40% country. Southern Manitoba Broadcasting Co. Ltd. acquired 100% interest in Community communications in 1977 and thus becoming the owner of the CHOO.
Complete List of Ontarian and Canadian Radio Stations
Listen KX96 95.9 FM Aax, ON Online
Listen K96 online from Ajax, Ontario. Wait as the stream loads.
In June 1994 Durham Radio Inc. purchased the Golden West Media Consultants Ltd. and made a shift to FM band; 95.9 MHz was the new frequency and 3,440 watts was the changed ERP. CJKX-FM were the new call letters incorporated on Nov 1, 1994; the station was branded as KX96 retaining the long run country format. Effective radiated power was increased to 5,110 w on Nov 28, 1994 and was further increased to 19,940 w in 2003. You can listen to the KX96 online with contests (March Movie Break, Music from the Shack, WinSticker Wednesday, Beat the Toaster), events & concerts info, multimedia galleries, audio clips, blogs, latest headlines, Carolyn's Country News and more on the official site. Follow K96 on Facebook, Twitter, YouTube and Insta. Here is the website: www.kx96.fm
KX96 New Country FM Shows
| Canadian Country Spotlight | Crook & Chase | Holly | The Ellis & Archer Hot 30 Countdown |
| --- | --- | --- | --- |
| Brian Cox | Pete Walker | Saturday Night at KX96 | Bob Saye |
| Ellis & Archer | 5 O'Clock Car Tunes | Tori Harper | Tim Lawrence |
KX96 New Country FM Jocks
| Brian Cox | Jerry Archer | Carolyn Ellis | Bob Saye |
| --- | --- | --- | --- |
| Holly | Pete Walker | Tim Lawrence | – |
Contact
Address: KX96 Studios
1200 Airport Blvd, #207
Oshawa, Ontario
L1J 8P5
Tel: 905571 0949
905 427 9696
1 877 302 9696
905 571 1019
Fax: 905 571 1150
Email: music@kx96.fm
kx96@kx96.fm