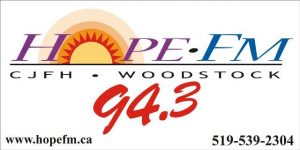 Hope FM 94.3 aka CJFH-FM is a Christian Contemporary station owned and operated by Sound of Faith Broadcasting. CJTW-FM in Kitchener and CHJX-FM London are sister stations of the radio. CRTC in May 2007 approved the company to launch a Christian music channel in Woodstock. The soon to launch radio would operate on ERP of 50 watts using a frequency of 94.3 MHz. Locally produced content, news, talk programs including live morning show, weather and sports in the city were included in the proposed programing.
Listen Hope FM 94.3 Woodstock, ON Online
Listen Hope FM 94.3 online from Woodstock, Ontario. Stream may take a moment to load.
On Dec 17, 2003 Faith FM was launched and was rechristened as Hope FM in 2005. 94.3 Hope FM shifted its headquarters to 419 Dundas Street. The frequency change to 104.7 MHz and increase of wattage to 3,100 watts was not approved by CRTC in Aug 2005. The change was again denied in April 2006. In March 2007 CTRC approved the relocation of transmitter and decrement of ERP to 37 watts. CRTC renewed the license of the station on June 29, 2010 to Aug 31, 2013. Audiences can listen to CJFH-FM 94.3 online, participate in feeding the hungry, donate, get events (Canada Day etc.) info and more. Follow the Hope FM 94.3 on Facebook and Twitter. Here is the website: www.hopefm.ca
Hope 94.3 Programs
| FOFT Weekend Magazine | Karen & Kids | Paws & Tales |
| --- | --- | --- |
| Adventures in Odyssey | Keep The Faith | Worship Music |
| Let My People Think | Daybreak Live with Brian | What's Happening? |
| Adult Contemporary Christian Music | Grace to you | In Touch Weekend |
| Lunch Box | Walk in the Word | Kids Corner |
| Focus on the Family | Insight for Living | Back to the Bible |
| On the Move | The Mayor's Report | Oh For Heaven's Sake |
| Discover The World | Praise & Worship | Classic Christian Gold |
| Soul to Soul | The Cross Current | Nights of Hope – Adult Contemporary & Praise & Worship Music |
HOPE 94.3 Personalities
| Richard Jones | Brian Seeley | Chris Gordon | Stephen Hendry |
| --- | --- | --- | --- |
| Jason Street | Jon Dyer | Beth Warden | – |
Contact
Address: 1038 Parkinson Road, Woodstock, ON N4S7W3
Tel: 519 539 2304
Fax: 519 539 2011
Email: events@hopefm.ca