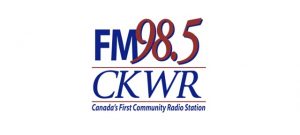 FM 98.5 CKWR established in 1973 is a Kitchener based community radio broadcasting easy listening and adult standards format. Currently owned by Wired World Inc. the station was founded by members of University of Waterloo Broadcast Society when they started a closed-circuit radio aired using a local cable company. By 1970 the plans were expanded to set up a non-profit and volunteer run radio. After CRTC's quick approval as the idea (of community radio) was first of its nature in the Canada, the channel hit the waves on a frequency of 98.7 MHz using an ERP of 200 w from it studios at 1342 King Street East. Electric music and alternative music, mixed talk and live band broadcasts were the part of the programming those days. After getting hit by a series of financial crisis the station in summers of 1980 had to relocate its facilities to a fire-hit house after purchasing it. It was broadcasting on stereo by April 1981 with the help of 75 volunteers. Ad-serving was enabled after as CRTC granted permissions in 1985.
Listen FM 98.5 CKWR Waterloo, ON Online
Listen FM 98.5 CKWR online from Waterloo, Ontario. Wait as the stream loads.

Complete list of Ontarian and Canadian Radios
More About 98.5 CKWR FM
Studios were relocated to 56 Regina Street North, Waterloo on Sep 28, 1985. ERP was increased to 1,430 w in 1990. With CRTC approval in 1990 the weekly broadcast hours were increased to 144. FM 98.5 CKWR had to lay down a large number of its staff once again due to financial losses. The restructuring incurred a Middle of the Road format and more commercial approach. The frequency and ERP were changed to 98.5 MHz and 2,400 w respectively in Oct 1997. The improvements were conducive in generating a stable revenue in the late 90's. It was rebranded as 98.5 Your FM on Sep 8, 2004. Format was changed to Soft Favorites in 2006 but was switched to Adult Standards in 2007. Year 2013 celebrated the 40th anniversary of Canada's First Community Radio Station. The FM 98.5 CKWR in 2016 decided to charge its volunteering staff $10 as it faced the decline in the donations from listeners. The mission of the FM 98.5 CKWR is to fill the intergenerational gap and connect with all the age groups and cultures in the society. Elevate, Educate and Communicate is the vison of the station. Audiences can listen the multicultural radio with news, local interviews, palylists community interest programming, community events update and of course Adult Standards (The Greatest Music of All Time) online. Follow the CKWR-FM on Facebook, LinkedIn, Google+ and Twitter. Here is the website: www.ckwr.com
CKWR-FM Programs
| Randy Johnston | Coral FM with Coral Andrews |
| --- | --- |
| Midday with RJ | The Afternoon Drive |
Contact
Address: FM 98.5 CKWR
1446 King Street East
Kitchener ON N2G 2N7
CANADA
Tel: 519 886 9870
519 886 9878
1 800 757 1050
Fax: 519 886 0090
Email: general@ckwr.com