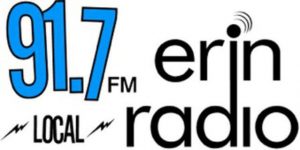 Erin Radio 91.7 legally known as CHES-FM is a community radio launched in Sep 2006 and owned by  Erin community radio overseen by Erin Radio Board of Directors. Mike Kurnik, Bryce Butcher, Ray Young, Rob Dodds, Jay Mowat, Ronia Michael, Phil Taylor and Mike ThurnellIn make the Board of Directors. 2003 local residents form the community felt the need of a radio that would connect the community and therefore conducted the feasibility study; 101.5 MHz was the spare frequency. The not-for-profit organization received a temporary approval from the CRTC at the end of 2005 but wasn't licensed yet.
Get More Ontarian and Canadian FM, AM and Online Stations
Listen Erin Radio 91.7 Erin, ON Online
Lisen Erin Radio 91.7 (CHES-FM) online form Ontario. Stream may take a moment.

The commission finally gave permissions to the Erin community radio for an LP station broadcasting on a frequency of 101.5 MHz using an ERP of 50 w. Proposed programming included news, sports, weather updates, community events and ethnic/cultural programs. Jazz, Folk, Blues and country would dominate the music. CHES-FM hit the waves on Sep 18, 2006 from the main street in the Erin. The frequency was changed from 101.5 to 88.1 MHz and ERP was increased to 250 w in 2011. It was rebranded as Mix 881 in 2012. Wattage was approved for increase to 570 w in Nov 2013. A booster transmitter CHES-FM-1 at Orangeville was denied by the CRTC in Oct 2014. The application made by the owner in April 2015 seeking the frequency change was approved by Canadian commission on May 18, 2016; 91.7 MHz would be the new frequency. The frequency change was implemented on June 21, 2016 while ERP was also increased to 850 w. CHES 91.7 FM can be listened in the beautiful village of Erin, Alton, Shelburne, Hillsburgh, Orangeville and the Hills of Headwaters. Erin 91.7 FM promotes the local talent, musicians, performers, storytellers, citizen journalism and volunteers. Top 40, classic rock, Indie and more can be have online on the official site with Volunteer info, DJ's and Shows info, podcasts and more. The coolest community radio station is catchphrase. Follow the 91.7 CHES-FM on Facebook and Twitter. Here is the website: www.erinradio.org
Programs
| Amplified Radio with Barry Rooke | Saturday Afternoon Oldies with Norma Pokocky 1pm | Pet of the Week with Norma Pokocky | Off the Beaten Track with Robert Newman |
| --- | --- | --- | --- |
| Jazz Boulevard with Moz Taylor | Anger Management with Andy "Gruesome" Geddes | Saturday Mornings with Ronia Michael | Butcher's Block with Bryce Butcher |
| Folk Roots Radio with Jan Hall | Sunday Retro Mix with Jerry Todd | Mid Mornings with Ric Dunwoody | The Erin Eye-Opener with Ric Dunwoody |
| Country Party with Alexa Leal | Steen's Diner with Ray Young | Generation Alternative with Mat Boisselle | Global Village with Chris Heim |
Contact
Address: Erin Community Radio Inc.
PO Box 1080 Erin,ON N0B 1T0
Tel: 519 833 9300
Email: info@erinradio.org
erinradio881@gmail.com