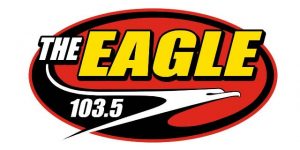 Eagle 103.5 FM (legally known as CKCH-FM) launched on June 20, 2008 and owned by Newcap Radio is a Country and Talk radio stationed in Sydney, Nova Scotia. CRTC on July 6, 2007 granted permissions to Barry Maxwell Martin to setup the station using FM dial on a frequency of 103.5 MHz with an ERP of 26,500 watts. CKRH-FM is the sibling of the Eagle 103.5 FM. The rock station of the Cape Breton Regional Municipality would target audiences aged between 25 and 54. Local programing would make 123 hours of the week. The other two commercial stations at that time in the municipality were Maritime owned CKPE and CJCB offering AC and Country music formats.
Listen Eagle 103.5 FM Sydney, NS Online
Welcome to 103.5 The Eagle! Listen 103.5 The Eagle (CKCH-FM) online from Sydney, Nova Scotia. Wait as the stream gets loaded.

Explore more Nova Scotia and Canadian Radio Stations
More About Eagle 103.5 FM
On May 15, 2008, CKCH began to test its signal after which it went officially on-air on June 20, 2008. In 2012 the company, Cape Breton Group, was purchased by Newcap Inc.; CRTC approved the transfer of effective control of remaining 70.1% shares "3221809 Nova Scotia Ltd" to NewCap. In February 2014 CRTC approved the purchase of the shares by Newcap. Audiences can have the listening online with best country hits, contests (Face Card Face Off, 5 in 10 for $25), events (Families for Families, Ron James!), get updated on Storm Centre, find playlists, Extras (Interviews with the stars and rising stars of Canadian music) and more of your interest. Connect with the 103.5 The Eagle using Facebook, Twitter and Insta. Here is the website: www.eagle1035.com
103.5 Eagle FM Programs
| All Canadian Countdown | The Saturday Night Kitchen Party |
| --- | --- |
| Casey Clarke Country Countdown | Rate The Music! |
| The Crook & Chase Countdown | Sunday Dedications |
| Down East Country | Bob Kingsley's Country Top 40 |
Eagle Hosts
| The Casey Clarke Show | Sheilah MacDonald | Don Sharpe |
| --- | --- | --- |
| Jay Bedford | Allan MacKay | The Early Show with Jay and Sheilah |
Contact
Address: 500 Kings Road, Suite 300
Sydney, Nova Scotia
B1S 1B1
Tel: 902 563 1035
902 270 5222
Fax: 902 270 3566
Email: info@eagle1035.com