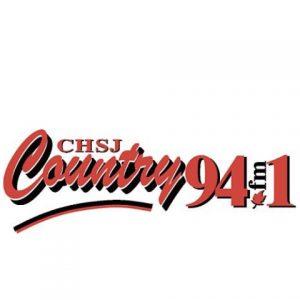 Country 94.1 FM legally remembered as CHSJ-FM is a Saint John, based country music station owned by Acadia Broadcasting alongside sibling CHWV-FM. Launch of the station goes to back to 1927 when CFBO was set up by C.A. Munro Limited using a 50-watts transmitter on a frequency of 890 kHz. The frequency got changed to 1210 kHz while reducing power from 500 w to 100 w in 1933. New calls for the station were CHSJ and 1120 kHz became the new frequency in April 1934. Effective radiated power was incremented to 1,000 which came with the relocation of the studios to Coldbrook in 1935. The company incorporated by C.A. Munro in the same year was renamed as New Brunswick Broadcasting Co. The operations and reach of the radio was expanded to Central, Southern New Brunswick and Southwestern Nova Scotia in 1940. Post Havana Treaty the frequency of the channel was 1150 kHz. In 1945 the County 94 became a part of The Telegraph-Journal and Evening Times-Globe, the companies held by Irving Family.
Listen Country 94.1 FM Saint John, NB Online
Welcome to New Brunswick Country Music. Listen Country 94.1 FM (CHSJ-FM) online. Wait as the stream loads.
Explore more NB and Canadian radios
More About Country 94.1 FM (CHSJ-FM)
The ERP was increased to 5,000 watts in 1946. In 1960 the wattage of the CBC Trans-Canada Network affiliate was increased to 10,000 watts for daytime while the night time power remained unchanged. In 1962 the Country 94.1 (CHSJ-FM) emerged with an independent identity as Trans-Canada and Dominion networks were consolidated into a single unit. CHSJ now an AM stereo channel switched its frequency to 700 kHz on February 25, 1988. In December 1993 the Effective radiated power increase approved by CRTC was implemented by the station making daytime wattage 25,000 w and 10,000 w for nights. January 1998 was marked with another significant change in the history of the Country 94 which was now shifted to FM dial and had eventually witnessed a new frequency flip making it 94.1 MHz. On Jan 7, 1998 CHSJ-FM was launched leaving behind the 63 years of AM Era. New Brunswick Broadcasting Co. Ltd and Acadia Broadcasting Co. Ltd. were consolidated into Acadia Broadcasting Ltd. in January 2003. CRTC renewed the license of the Country 94 on November 30, 2010 until August 31, 2017. Audiences can listen live the best country hits, get local news and info about events (Fresh Start Festive Firs Fundraiser, A Christmas Extravaganza Variety Show, The Carleton Choristers, Five Festive Fridays, Island view Christmas Craft Sale) in community, join listener club and enjoy other cool stuff by visiting the official web portal. Fans may follow their Country 94.1 on Facebook and Twitter. Here is the website: www.country94.ca
CHSJ 94.1 FM Personalities
Marky B
Jim & Bobbi
Mark Downey
Contact
Address: Country 94 CHSJ
58 King St
Saint John NB, E2L 1G4
Tel: 506 633 3323
506 657 9494
Fax: 506 644 3485
Email: mail@country94.ca