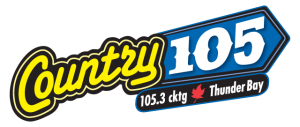 Country 1053 FM aka CKTG-FM as evident by its name is a Country radio owned by Acadia Broadcasting and operates in Thunder Bay. CFPA-AM on a frequency of 1230 kHz using an ERP of 250 w was launched by Ralph H. Parker on Sep 3, 1944 at Port Arthur. In 1947 the channel became member of the Canadian Association of Broadcasters. CFPA-FM to simulcast the content of the main AM channel was approved in Dec 1947. The ERP was increased to 1000 w for daytimes and 250 w for the nights. Following the Trans-Canada and Dominion networks dissolve, CFPA remained a CBC affiliate. Leader Broadcasting Corp. on Nov 4, 1980 acquired CFPA from Ralph H. Parker and calls were changed to CJLB. The nighttime wattage increased to 1,000 w in 1985 while the daytime power of transmitter was further recommended for an increase up to 4,000 w.
Listen Country 1053 FM Thunder Bay, ON Online
Listen Country 1053 FM (CKTG 105.3 FM) live from Thunder Bay, Ontario. Wait for the stream to load.

More About Country 1053 FM
A booster transmitter at Nipigon on a frequency of 96.3 MHz using an ERP of 89 w in 1986. NewCap Broadcasting Ltd. was approved to purchase the Middle of the Road radio in April 1988; ownership was changed on May 4, 1988. The band was changed to FM and the new frequency allotted was 105.3 with an ERP of 100,000 w. Following an LMA CJLB shifted its studios and offices to Dougall facility in 1995. Format was switched to Hot Adult Contemporary on May 17, 2002. The CKTG 1053 was rebranded as 105.3 The Giant and shifted to Classic rock format in Jan 2005; CKTG-FM were the new call letters. Northwoods Broadcasting owned by Acadia Broadcasting Ltd. was granted permissions on Dec 2, 2009 to purchase CKTG and CJUK-FM. Format was once again changed to Country and rebranded as Country 105 in March 2014. In fair weather conditions the radio can be listened across Lake Superior and Marquette in United States. Listen Country with news, weather updates, events calendar and more. Join Country Club and participate in contests online. Follow the CKTG-FM 105.3 on Facebook and Twitter. Here is the website: www.country1053.ca
Country 1053 FM Programs
| Canadian Country Spotlight | Mark Tannahill & John Ongaro | Bob Kingsley Country Top 40 | Uncle Ed's Country Den |
| --- | --- | --- | --- |
| Ken James | Ed Lavoie | Andy Captain | Ed's Request Hour |
Contact
Address: Country 105.3 & Magic 99.9
180 Park Ave, Suite 200
Thunder Bay ON
Tel: 807 344 2000
Contest Line: 807 344 1053
Email: country@country1053.ca
pettigrew.scott@radioabl.ca