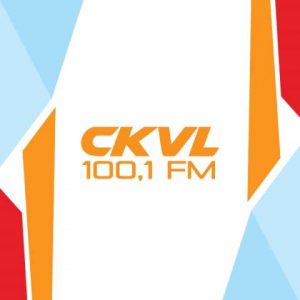 CKVL 100,1 FM is a Montreal station owned by La Radio Communautaire de Ville Lasalle. CKVL is a radio station that offers a medium of communication that is predominantly francophone and that promotes the development of the social fabric and the involvement of the population in local development. It aims to offer individuals in the community learning and skills development through their involvement in the overall operation of the radio station. Philippe Tisseur and Pierre Brise-Bois are President and DG at CKVL 100.1 FM. French language community station was born in 2008 after the approval of CRTC on March 10, 2006. Type B station would air on a frequency of 100.1 MHz using an ERP of 250 w. 126 hours a week programming would include local and regional news, sports and weather updates, community interest programming and music. 116 hours of programming would be produced locally by the CKVL-FM while 10 hours of it would come from other community radios in the region.
Listen CKVL 100,1 FM Montreal, QC Online 
Listen CKVL 100,1 FM live from Montréal, Québec. Stream may take a moment to load.

More About CKVL 100.1 FM
As much as 78% of the content would be in French the rest would be dedicated to the English speaking audiences in Montreal. At the beginning the calls applied for the channel were CKLS but changed to CKVL in 2007. After a wait of almost two years, CKVL 100,1 FM signed on air on Jan 8, 2008. ERP was decreased to 110 w and studios and transmitter site were moved to LaSalle Borough City Hall in 2010. CRTC made an administrative renewal of the channel in Aug 2012 to Aug 2013. Francophone audiences can listen CKVL 100.1 FM online with concours, programmation info, évènements, CKVL Membership and more. Get social with radio on Facebook, Twitter. SoundCloud, Instagram and YouTube. Here is the website: http://www.100-1fm.com/
Programmation
| Incendie | Simplement Country | Coin Maroc | Smitty in the Citty | Normand |
| --- | --- | --- | --- | --- |
| Samedi de lire | Carrefour des ainés | Brunch Country | Clic Franco | Bulle bien-être |
| Ça commence ici ! | TOP 10 CKVL | L'histoire de la musique | Ambulance | Culture |
| Les Spécimens | ALL Feel Mix | MTL Monde | Révélations | – |
| Coco Jazz | Comme il folk | Un jour à la fois | Dans la rue des souvenirs | – |
Animateurs
| Amélie Boivin Handfield | Sandra Lee | Samuel Poirier Rousseau |
| --- | --- | --- |
| Chantale Galimi | Maryline Marcil | Melina |
| Bernard Roulier | Catherine Durand | Yannick Proulx |
| Sonia | | Todd Smith |
| Jean-Claude Duclos | DJ All Feel | Charlie Rousseau |
| Francis Carrière | Cédric Legault | Miriam |
Contact
Address: 55 Avenue Dupras, LaSalle (3e étage) – H8R 4A8
Tel: 514 360 2585
Email: info@100-1fm.com