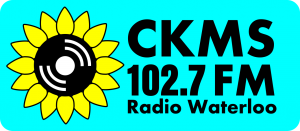 CKMS 102.7 FM aka Radio Waterloo/Sound FM is an adult alternative community radio owned by Radio Waterloo Inc. The history of the station dates back to 1964 when some students began to host a weekly music and info program on CKKW-AM. The program set the tone for the building of a closed-circuit channel in 1969 and was soon available on Grand River Cable. A license was granted to the CKMS 102.7 in June 1977 by CRTC to end the carrier current station's broadcasts; proposed frequency and ERP were 94.5 MHz and 50 w respectively. CKMS-FM was launched on Oct 15, 1977 as campus radio of University of Waterloo. Dave Assman and Bill Wharrie were the only full-time staff.
Get More Ontarian and Canadian FM, AM and Internet Stations
Listen CKMS 102.7 FM Waterloo, ON Online
Listen CKMS 102.7 FM online from Waterloo, Ontario. Wait as the stream loads.
Frequency was changed to 100.3 MHz and ERP was incremented to 250 w after an approval by commission on Aug 28, 1991; the frequency change got implemented on Oct 15, 1992. Radio Waterloo was renamed as Sound FM in 2008. The CKMS 102.7 FM had to briefly get off air in Nov 2009 in consequence of a UW student referendum opposing a per-term fee that supported the CKMS 102.7 FM; it is 100% independent and runs on its own since the boycott by the UW students. The applicant requested CRTC to change its frequency in Aug 2005 which CRTC approved on Nov 10, 2016. The official move took place in March 2017. Audiences can listen the campus station CKMS 102.7 FM online with a lot of syndicated and student produced shows, smooth jazz, Punjabi music, heavy metal, Schedule, volunteering info, newsroom, how to submit music/Start a Show and more. Follow the CKMS 102.7 on Facebook and Twitter. Here is the website: www.soundfm.ca
CKMS 102.7 FM Shows
| "Folk" All Night Autopilot | Lijepa Nasa | Sargam | La Roca |
| --- | --- | --- | --- |
| Caribbean Spice | MyAudioFace | KW Radio Basics | Tony's Progressive Chill |
| South American Mix | Rebel time Radio | So Old It's New | Towel Rock Autopilot |
| Jeff's Neo Swing Selectorbot | The Wax Jungle | Souljah Sessions | Mazaj Show |
| Starfish And Coffee | The Agriculture Show | Ska Party | Pandemonium |
| Democracy Now! | Welcome to Nightvale | The American Life + Prison Radio | Denim Entertainment Radio |
| Da Don's House | Street Hop | Best of British Unsigned | FemCon Autopilot |
| Monday CKMS Moment | Canadaland | Earshot 20! | Radio Hootenanny |
| Strange Frequencies | The Lost Indie City | Natural Element's | – |
| Radio Absurdica | Punk Autopilot | To Be Determined | – |
| Diskotéka | The Remedy | Metal Now! | – |
Contact
Address: 283 Duke St W, Unit 114B Kitchener, Ontario, Canada N2H 3X7
Tel: 519 884 2567
Email: office@soundfm.ca