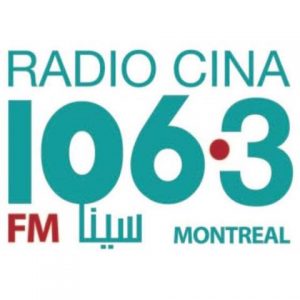 CKIN 106.3 FM owned by Neeti P, Rat is an Arabic language radio based in Montreal. Radio CKIN Montréal is the first Arabic radio station on FM frequency. Top 40 is the format however, contemporary and classical music from the Middle East is also showcased. The station is a treat for a community of more than 400,000 Arabic speakers in Greater Montreal and surrounding areas. CRTC granted Canadian Hellenic Cable Radio Ltd. permissions to set up an FM station on a frequency of 106.3 MHz using an ERP of 190 w. Licensee proposed ethnic programming coming reaching six different cultural groups with eight languages (excluding English and French).
Full List of Quebec and Canadian Radios for Listeners
Listen CKIN 106.3 FM Montreal, QC Online
Listen CKIN 106.3 FM live from Montréal, Québec. Wait as the player loads.
More About CKIN
At least 50 hours of the content would be dedicated to spoken word, 9 would give news and another three for sports, weather forecasts and traffic reports. Ethnic spoken word and music would make 70% of the total programming. After signal tests in Aug 2010, the channel signed on air in Oct as Skin FM. ERP was increased to 407 w (avg.) and 1,200 w (max) in 2013. Neeti P. Ray acquired the CKIN 106.3 FM in 2015. A complaint from Arabian language radio CHOU against CKIN 106.3 FM citing non-compliance with the commission's terms was dismissed by Canadian Radio-television and Telecommunications Commission in Oct 2016. Audiences can listen the Arabic music station online with news, Nouvelles, Événements, Podcasts, Vidéos and more on the multilingual web portal. Get social with Radio CKIN 106.3 using Facebook and Instagram. Here is the website: www.ckinfm.com
CKIN 106.3 Animateurs
| Zouhair Taba | Angie Badaoui | Farah Mustapha |
| --- | --- | --- |
| Ritta Hanna | Amel Sekhri | Mado Ashraf |
Contact
Address: 1955 Chemin de la cote de liesse
Montreal, Quebec
Tel: +1 514 333 1063
Email: info@ckinfm.com