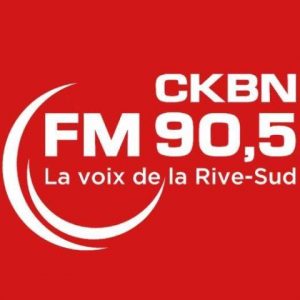 CKBN 90,5 FM is a French language community radio broadcasting from Bécancour, Quebec. La Voix de la Rive-sud (The Voice of the South Shore) is the slogan of the community broadcaster. The station was approved by CRTC on Jan 30, 2004 when the commission approved applicant: Coopérative de solidarité radio communautaire Nicolet-Yamaska-Bécancour, Quebec to set up a Francophone community radio on a frequency of 90.5 MHz with an ERP of 34,000 w. Broadcasting a total of 126 hours, 116 would be produced locally by the radio. The applicant was not satisfied with the authorized contour and therefore requested the commission for amends in frequency and wattage. 88.1 MHz and 2,600 w (avg) were the new frequency and transmitter power sought by the licensee. The commission didn't agree with the CKBN 90,5 FM and disapproved the change on Feb 16, 2006. CRTC gave licensee the last chance to get the FM on air by July 30, 2007.
Listen CKBN 90,5 FM Becancour, QC Online
Listen CKBN 90,5 FM live from Trois-Rivières, Quebec. Wait as the stream loads.
More Canadian and Quebec Stations
On May 8, 2007 the channel finally signed on air. Canadian Radio-Television and Telecommunications Commission updated the license of the CKBN 90,5 FM on Dec 21, 2012 until Aug 31, 2017. CKBN's mission is to provide an effective communication tool that is present in its community serving the people, communities and organizations of the territory. It is there to promote economic, social and cultural development and ultimately to strengthen the sense of belonging to the community. Bingo, billetterie, Concours et promotions, Activités and more is available online. Follow CKBN 90.5 FM on Facebook and Twitter. Here is the website: www.ckbn.ca
Contact
Address: 10 275, suite 127
Chemin Leblanc
Wôlinak, Québec
G0X 1B0
Tel: 819 294 2526
Toll Free: 1 855 865 2526
Fax: 819 294 2527
Email: INFORMATION@CKBN.CA