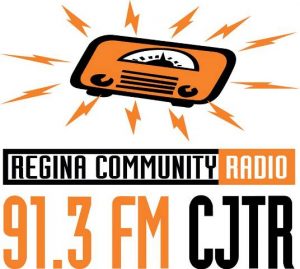 CJTR-FM 91.3 launched on November 1, 2001 is a Regina based community radio owned by Radius Communications Inc. Rick August and Ben Valiaho are respectively the current president and vice-president at 91.3 FM CJTR Regina. The no-for-profit radio was launched after a fundraiser that began in 1996 and made the CJTR-FM 91.3 launch on-air by 2001. The history of the Volunteer run station goes back to February 8, 2001 when CRTC granted the licensee permission to launch a Type B Community FM at 91.3 MHz in Regina with and ERP of 480 watts. The programs hosted at the CJTR-FM 91.3 are large produced by the community members working in the non-profit organization. 100 hours/week of locally produced content 26 hours of borrowed content featuring different artists, art institutes and community broadcasters. Music aired by the station feature Electric and alternative.
Listen 91.3 FM CJTR Regina, SK Online
Welcome to 91.3FM CJTR Regina Community Radio. Listen 91.3 FM CJTR Regina. Wait as the stream loads.
More About 91.3 FM CJTR Regina
CRTC renewed the license of the CJTR-FM on August 31, 2007 to August 31, 2014. CJTR-FM is going to celebrate its 15th anniversary on November 5, 2016. Audiences apart from FM dial @ 91.3 can listen the CJTR-FM on Channel 806 (SaskTel Max system), Channel 700 (Access Communications Digital Service) and online with best Classical, Rock, Pop, Hip Hop, Jazz, Soul, Funk, Folk, Blues, Gospel and Country music. Spoken word community programs, multicultural content, specialty and religious programming makes the remaining content at CJTR-FM. To listen the CJTR-FM on the go, download the official android and iPhone applications available on the site. Apart from the schedule and other information visitors on the official site can have news, read blogs on different issues topics, get info about latest events (CJTR Music Garage Sale 2017!), access podcasts, get member ship and make donations. Fans may connect with Regina Community Radio 91.3 FM CJTR using Facebook and Twitter. Here is the website: CJTR-FM 91.3 Regina Community
Programs
| Phil 'til Morn | Phil's Overnight Jam | Phil's Weekend Music Mix | East Coast Countdown | Phil's Overnight Jam |
| --- | --- | --- | --- | --- |
| Navaye Ashena | Loak Virsa | World of Blues | Borderlines | The Beaten Path |
| Erica Show | Orange Whip | Crossing Midnight | New Times | Around The World |
| Spotlight | RadioKids/Radioactive | Songwriters Loft | A Hot Mess | Rincon Latino |
| Borderlines | Maple Leaf Phil | The Book Show | Music and the Spoken Word | Hardwired |
| Square Hour | Prairie Lily Special | Queen City Improvement Bureau | The All Day Breakfast | Hits for Zoomers |
| Mehfil | Deeper Well | The Capital | Off Stream | Toast and Coffee |
| Gender Talk | Sour Hour | The Spirit Mix | WoodSongs Old Tine Radio Hour | Wake and Break |
| The Prairie Naturalist | Inside Europe | Art of the Song | Boss! Radio | The Comedy Grind |
| Just Drawn That Way | Biscuits & Gravy | The Dishpit | Matty V's Nerdcore Caberet | The Cockpit |
| Mists of Thyme | Pickin' It Country | Thursday Drive Time | Putumayo World Music Hour | Inside Insanity |
| Operation Manatee | Human Rights Radio | Toast and Coffee | Comedy Collection | Morning Scramble |
| The Green Majority | The Jubilee Gospel Show | Caribbean Vibes | Words On Air | The Redbeard Special |
| Muzyka Ukraine | Chinese Connection | Knight Views | Jam N' Juice | Listen Up |
| It's Time | The Bonus Round | The Dog Run | The Road | Redbeard's Blues |
| Wednesday Drive Time | Acoustic Café | Live on 11th | The Book Show | When Jokers Attack |
| Music Buff | Dodecahedron | Polka Power | The Rok Boutique | Spectrum |
| Scotland Calling | Urban Nostalgia (A Private Party) | Striving for Independents | Chart Breaker | – |
| Red Barn Radio | Wednesday Morning Show | Daebak | WoodSongs Old Tine Radio Hour | – |
Members/ Personalities
Natasha Willa
Curtis Eisler
Jenelle Jakobson
Dave Kuzenko
Matthew Leier
Contact
Address: #301 – 1102 8th Avenue, Regina, Saskatchewan
Telephone: 306-525-7274 Facsimile: 306-525-9741
Email: feedback@cjtr.ca