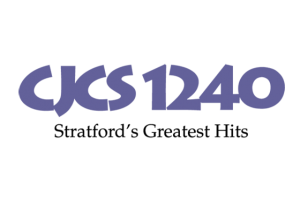 CJCS 1240 AM is a Stratford based Oldies and Classic Hits station owned by Vista Radio. Stratford's Greatest Hits is the slogan of the radio. CJCS traces its history back to 1928 when 10AK, an amateur station was set up in Stratford. The calls: CJCS were assigned in 1935. In line with the Havana Treaty the frequency was changed to 1240 kHz and ERP remained 50 watts as incremented in 1936. It became CBC Dominion affiliate in 1945 along with eight other channels. Power increase request from 100 watts (made in 1946) to 1,000 w was not accepted in May 1946 however, the ERP was changed to 250 w in 1947. Countryside Holdings acquired the radio in 1954. Like other affiliates the approval was received to increase the wattage to 500 w in 1961. The affiliation with CBC remained even after the merger of Dominion and Trans-Canada in 1962. Eastern Broadcasting in 1964 jumped in to acquire the AM station and was ultimately successful in its purchase along with four others in Orillia, Parry Sound, Woodstock and Midland. The channel was purchased by Telemedia Communications Ontario Inc. in 1978 after which it became independent with separation form CBC.
Listen CJCS 1240 AM Stratford, ON Online 
Listen My Stratford Now: CJCS 1240 AM Online from Stratford, Ontario. Wait as the stream gets loaded.

More Canadian and Ontarian FM and AM Radios for Listeners
The move to convert CJCS to FM band with change in ERP, frequency and format was deferred by CRTC on May 11, 1990. In June 1997 Telemedia Communications Inc. sold its only profitable radio to Raedio Inc. owned by Steve Rae. In 1998 CJCS celebrated its 75th on-air year a year after which in 1999 the radio was launched through the internet medium. With the acquiring of remaining 19.9% shares in the AM station, Raedio Inc. had now full ownership to the asset with 100% interest. CRTC renewed the license of the CJCS 1240 AM on Nov 30, 2010 until Aug 31, 2017. In 2011 Haliburton Broadcasting Inc. became the new owner but purchased the radio to Vista Radio Ltd. very next year. CRTC approved the Vista's request to change the dial to FM band, changed of frequency to 107.1 MHz and increase in Effective radiate power to 4000 watts on Aug 10, 2015; the changes are not in effect as of now. Listen the radio online with best oldies, contests, obituaries, community events, School Bus Reports/cancellations, news, sports, Community Cruiser, CJCS Birthday Club, Wendy's Stratford Warriors Hockey on 1240 CJCS and of course 2Day FM, the AC sibling. Here is the website: www.mystratfordnow.com/on-air/cjcs
Contact
Address: 376 Romeo St South
Stratford, ON
N5A 4T9
Tel: 519 272 1240
519 271 2450
Fax:  519 271 3102
Email: info@cjcsradio.com