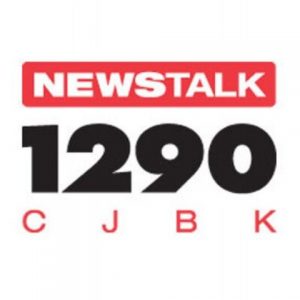 CJBK 1290 AM launched in 1967 is a Bell Media owned News and Talk radio. H. J. McManus was given the green light to set up an AM station in London on a frequency of 1290 kHz (previously used by CKSL until Sep 1964 before it switched to 1410 kHz) using an ERP of 5,000 w. CJOE singed on air on Jan 25, 1967 with a 10,000-watt transmitter from its studios at Hotel London, 279 Dundas Street. In 1970 the format was flipped from Top 40 to Rock. Middlesex Broadcasters Ltd. incorporated on behalf of Joe McManus was sold to Shoreacres Broadcasting Co. Ltd. on Sep 4, 1972. On Sep 6, 1972 new calls: CJBK  were assigned; hit format was incorporated as a part of the big switch. Studios and offices were shifted to 743 Wellington Road South in March 1977. CJBX-FM was launched on March 3, 1980.
Listen CJBK 1290 AM London, ON Online
Listen Newstalk 1290 CJBK online from 1290 AM London, Ontario. Wait as the stream loads.

Find More Ontarian and Canadian Radios
More About CJBK 1290 AM
In 1983 second highest audience share was recorded by CJBK as per BBM ratings. The format became light rock in Aug 1987 just to become oldies in 1992. News and Talk was the new formatting effective Aug 12, 1996. Telemedia Radio Inc. came forward to purchase the siblings in 1998. In 2002 Standard Radio Inc. purchased the CJBK-AM from Telemedia and sold it to Astral Media Radio G.P. in Sep 2007. Astral and Bell Media were consolidated into one company and CJBK 1290 became an asset of Bell Media. CTV London studios and newsroom broadcast the news bulletins for the radio after CJBK was acquired by Bell in 2014. In July 2016 London Knights ended their 22-year relation with the CJBK 1290 AM as they shift to Corus-owned AM 980. With the announcement coming from Knights, the same day Mike Stubbs also announced his retirement from the radio as host of Morning drive show and Knights man. News, live sports commentaries, talk shows, interviews, music and wide variety of content is aired by CBJK 1290. Official site has for audiences, shows info, contests (OLG Jackpot Radio), audios & videos, community events, podcasts and more. Get social using Facebook, Twitter and Instagram. Here is the website: www. iheartradio.ca/newstalk-1290-cjbk
Newstalk 1290 CJBK-AM Programs
| Retirement Ready | Pop-Cultured | Real Talk with Evan Solomon | The Live Drive with Andy Oudman |
| --- | --- | --- | --- |
| The Richard Crouse Show | Ask The Experts | Life After The Game | Renovations |
| London @ Large | Hollywood 360 | CTV London at 6 | The Dan Patrick Show |
| The Night Side with Barb DiGiulio | The Motts Weekend | Coast to Coast AM | The Morning Show with Ken & Lisa |
| Live Sports | Conversations with John Moore | Religious Programming | The Tom McConnell Show |
| Animal House | Tech Tips with Carmi Levy | Hollywood 360 | TED Radio Hour |
Newstalk 1290 CJBK-AM Hosts
| Paul McDonald | Ray Clark | Leah White | Scott Campbell |
| --- | --- | --- | --- |
| Lindsay May | Kylee Roman | Tom Mayenknecht | Edward Simpson |
| Sunni Genesco | Evan Salomon | Jon Pole | Derek Clyde Lewis |
| Matt Hayes | Chris Robinson | Peter Antoniadis | Jr BM |
| Maura | Kim Komando | Jay Michaels | – |
Contact
Address: 743 Wellington Road South London ON N6C 4R5
Reception:
Tel: 519 643 1290
519 686 2525
Email: scott.simpson@bellmedia.ca