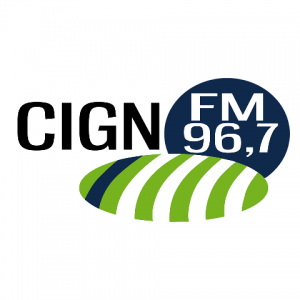 CIGN FM 96,7 launched on May 7, 2012 is a Coaticook radio for the Francophone community of the town. Canadian Radio-Television and Telecommunications Commission permitted Radio coopérative de Coaticook to set up a Type B community station on a frequency of 96.7 MHz using an ERP of 1,250 watts (avg) and 2,400 w (max). Licensee opted for 102 hours of programming each broadcast week. Easy listening would make the music and spoken word programs may include newscasts, current and public affairs talk, cultural content and variety of community interest programs. 10% of the total news would be local, regional news would make 60% while remaining 30% should include national and international news stories.
Listen CIGN FM 96.7 Coaticook, QC Online
Listen CIGN FM 96.7 live form Coaticook, Québec . Stream may take a moment to load.
More Canadian and Quebec Radios for Listeners
More About 96,7 CIGN
The Canadian Commission granted CIGN-FM leeway for the launch of the station in Feb 2012 until October 2012. Community Radio made it into airs finally on May 7, 2012 form its studios at 39 West Main Street. Se connaître. Se reconnaître. Se faire connaître. is the catchphrase of the CIGN 96.7 FM. Concours, Entrevues, Nouvelles, Émissions à venir, Dernières nouvelles and a whole lot of info and entertainment is available online. Follow CIGN FM 96,7 on Facebook, Instagram and Twitter. Here is the website: www.cignfm.ca
CIGN-FM 96.7 Programmation
| Radio Bingo | Musique du Dimanche | 80 à l'heure | Mix |
| --- | --- | --- | --- |
| Du mythe à la réalité | Aux Alentours | Affaires de gars | Sur la même longueur d'ondes |
| Airs d'autrefois | Back in Time | Animée par Patou | Fortin Classique |
| Par-dessus le marché | Le retour qui défrise | Voyage-Voyage | Décompte Top 20 |
| En attente du Radio-Bingo | Musique | Clic Franco | CIGN the Blues |
| Musique | Agent libre | Comme il folk | Ce que dit la Bible |
| Avec Christian Caron | CAB | Le bonheur est dans le country | Mise-à-jour |
| CIGN le matin | Studio M | Top Succès | 100% Country |
| Top Succès | Tout en musique | Frañol | Le retour qui défrise |
| 100% Franco | En route vers l'Ouest | Info & Communautaire | L'éclatée |
| Bottes & Notes | La cloche a sonné | Affaires de gars | – |
96,7 CIGN FM Team/Équipe
| Sylvain Madore | Christian Caron | Chloé Corbeil-Smith |
| --- | --- | --- |
| Gabrielle Dupuis | Marie-Pier Audet | Patricia Désorcy |
Contact
Address: 39 Main Ouest
Coaticook
Tel: +1 819 804 0967
Email: direction@cignfm.ca