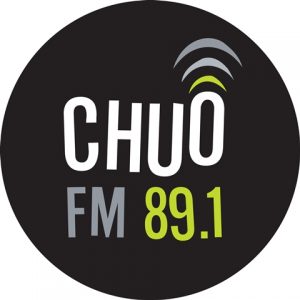 CHUO 89.1 FM is a C1 campus radio launched on May 31, 1991 and is owned by CHUO. Initially launched as CHOR, on a frequency of 670 kHz in 1975, the very first license was an AM carrier current license making it a cable or closed circuit radio. CRTC granted a new license for a multilingual (French and English) radio on Nov 9, 1989; the now official student FM would broadcast on a frequency of 89.1 MHz with an ERP of 3,200 w. It was officially launched on May 31, 1991 to ultimately replace the carrier current radio. CRTC renewed the license of the channel on Aug 13, 2007 to Aug 31, 2014. The channel is by all means a community funded and run station providing its listeners with entertainment and information at the same time. The Multicultural radio @ 89.1 connects the communities in Ottawa elevates local artists, maintains a strong social network and pays back community with skills enhancement, training, resources and all.
Listen CHUO 89.1 FM Ottawa, ON Online
Listen CHUO 89.1 FM: Community Radio Communautaire Ottawa/Gatineau live from Ontario.

More About CHUO 89.1 FM
CHUO FM 89.1 is a home of diversity with programming in over 10 languages. Funding Drive covers about 25% of the annual budget spent on rentals, repairs, maintenance and programming. CHUO is a member of National Campus and Community Radio Association and AMARC. English and French make a total of 90% (45% each) programming at the studios while the remaining 10% is in Aboriginal and others. Audiences can receive the University of Ottawa Campus Radio via Rogers digital cable and through online stream. You can listen the CHUO-FM online with local news, On Air Guide, recently played music, cultural and event-based programming. Blogs are available on the official site for the readers. Follow the station on Facebook, Twitter and Instagram. Here is the website: www.chuo.fm
CHUO 89.1 FM Programs
| Live Sessions | Monday Night Scribes | Spotlight | Vanguard Radio |
| --- | --- | --- | --- |
| Summit Sessions | City Slang | Tropic FM | Negativland |
| The Latin Train | The Circle | Gospel Generation | Quid Novi |
| Cinemascope | Jazz & Compagnie | Apnivani | La Villa Strangiato |
| Raiders of The Lost Art | Ghetto Erudit | Afrique Plus | Acoustic Roots |
| Heart Beat Café | Caribbean Flavour | Radio Active | Democracy Now! |
| CHUO Top 30 | Sous-Sol 819 | ICI L'Afrique | Hop the Fence |
| Afrika Revisited | Origenes | The is Heart City | L'expresso du Dimanche |
| Quantum Electrum | Radio Carsija | L'Express Country | Rockers |
| In Transition | I've Heard that song before | No Filter | Black on Black |
| Atmosphere | Somali Show | Radio France Internationale | Amanecer Ranchero |
| Bouyon Rasin | TK FM | Romagazin | Ladies First |
| Ethiopian Show | CAN-Rock | NU BRL Show | Metal Canvas |
| Then & Now | The Album Drop | Pastiche | Third Wave |
| Schizophrénie | Cypher | Mixtape Sessions | Men Kontre |
Contact
Address: CHUO FM 65 University Pvt. Suite 0038 Ottawa, Ontario K1N 9A5 CANADA
Tel: 613 562 5967
Email: info@chuo.fm