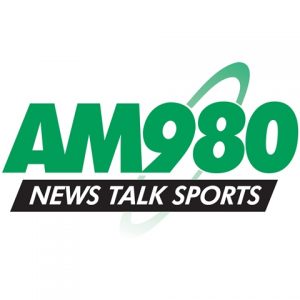 CFPL AM 980 established in 1922 as CJGC is a News and Talk radio currently owned by Corus Entertainment. CFPL, CFHK and CKDK are the siblings of the channel. The London Free Press Printing Co., owned by Arthur Blackburn, on Sep 30, 1922 activated the radio from studios at 440 Richmond Street. 910 kHz and 500 w were the frequencies and call sings assigned to later AM 980 in 1925. ERP was increased to 1,000 w and again reversed to 500 w in 1926 and 1927. Lease time was given to CNRL, a radio service of Canadian National Railway's on March 7, 1929 which remained until the leaving of it in 1932. Effective radiated power was incremented to 5,000 w in 1931. The frequency was changed to 730 kHz and new ERP was 100 w in 1933. CKLW was formed after the merger of CKOK Windsor with the London station. Newly founded station would get a frequency of 840 kHz using an ERP of 5,000 watts. However the partnership didn't go well as The London Free Press left it to set up CFPL on 730 kHz in 1933 from its studios at Richmond Street. Year 1936 marked the affiliation of CFPL with CBC.
Full List of Canadian and Ontarian FM and AM Radios 
Listen CFPL AM 980 London, ON Online 
Listen CFPL AM 980 online streaming from London, Ontario. Wait as the stream loads.

The frequency was once again changed to 1400 kHz and then 1570 kHz in the same month March 1941 after the singing up of Havana Treaty. CFPL was a 1,000 watts station in 1942 and increased its ERP to 5,000 watts in Set 1946. In May 1948 CFPL-FM was launched. On Feb 20, 1949 it moved to 980 AM and is stable as of today. As of 1957 the 980 AM was a CBC Dominion Network affiliate and Walter J. Blackburn after the death of his father and founder of the company, Arthur Blackburn was the president.  In 1959 the daytime wattage was increased to 10,000 w. It didn't disaffiliate with CBC after the union of Trans-Canada and Dominion networks into CBC network. Being a CBC affiliate it broadcasted news, sports and talk programing and carried 40 hour of CBC' content per week at nights and midnights. In 1978 CFPL ended its affiliation with CBC. Year 1984 witnessed the merger of CFPL Broadcasting Ltd. and London Free Press Holdings Ltd. into The Blackburn Group Inc. In the same year the format was flipped to Adult Contemporary.
Format was then changed to oldies in Sep 1993. After the sale of The London Free Press to The Toronto Sun, the corporate name became Blackburn Radio Inc. Shaw Radio Ltd. purchased the FM and AM siblings Blackburn Radio Inc. Corus Entertainment, a subsidiary of Blackburn would drive the CFPL 980 AMfrom Sep 1999. On Sep 28, 2007 AM 980 celebrated its 85th anniversary; audiences and personalities at AM 980 were present in the celebrations. In Nov 2007 the CFPL AM 980 changed its format to all-news with talk and sports content. CRTC renewed the license from Nov 2010 to Aug 31, 2017. Audiences can listen CFPL 980 AM online with news, traffic reports, sports, London weather updates, local events, contests (Trip for two to Montreal High Lights Festival) and shows info, Knights, trending stuff, AM980 Podcasts audios/videos and more. Connect with CFPL AM 980 using Facebook and Twitter. Here is the website: www.am980.ca
CFPL AM 980 Programs
| The Andrew Lawton Show | Non-Stop Sunday News | Inch By Inch: The Ultimate Home Comfort Show | Ask BBB |
| --- | --- | --- | --- |
| The Craig Needles Show | Mortgage Teacher with Michael Mullis | The Pulse with Devon Peacock | AM980 Non-Stop Afternoon News |
| For Safety Sake | Retirement Ready Radio | The Savvy Senior | Loonie Politics with Robert Wood |
| The Roy Green Show | Haven Ministries | AM980 Non-Stop Morning News | Couch Potatoes |
| Persuasion Inc with Craig Trevor | AM980's Ask The Experts | Democracy Now | – |
| Medpoint Half Hour Of Health | Outdoor Living | Non-Stop Saturday News | – |
CFPL AM 980 Staff and Personalities
| Andrew Lawton | Jess Brady | Craig Needles | Devon Peacock |
| --- | --- | --- | --- |
| Travis Dolynny | Scott Monich | Matthew Trevithick | – |
| Trudy Shaw | Jacquelyn LeBel | Natalie Lovie | – |
Contact
Address: 380 Wellington St., #222
London, Ontario, Canada
N6A 5B5
Tel: 519 931 6098
    519 931 6000
Email: news@am980.ca