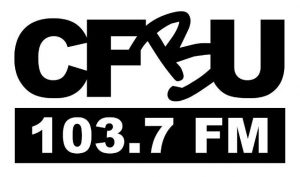 CFBU 103.7 is a Campus radio owned by Brock University Student Radio (BUSR) and traces its history back to 1979. Based in St. Catharines the channel was launched in 1997 long after the Brock University Students Inc. was allowed to set up a station at the campus on a frequency of 640 kHz using an ERP of 20 w. Brock Radio Collective was once again licensed in Jan 1997 and now it would be an English language FM broadcasting on a frequency of 103.7 MHz using a 250-watts transmitter. It was proposed that CFBU would initially broadcast 105 hours of local content each week.
Find More Ontarian and Canadian Radios
Listen CFBU 103.7 St. Catharines, ON Online
Listen CFBU 103.7 St. Catharines, Ontario. Wait as the stream loads.

More About CFBU 103.7
Ethnic programs would fill 14 hours of the regular programming. CFBU 103.7 FM went off-air in 2002 and returned to airs in May 2003 from its studios at 500 Glenridge Avenue. CRTC validated the license of the channel on May 22, 2007 until Aug 31, 2014. License was again renewed for a sever year term from May 2014 to Aug 2021. You can contact the Brock University Student Radio online through email and contact numbers to join it as volunteer or full-time host of different time-slots and projects taken by the radio as the channel is looking for dynamic individuals interested to get involved. Audiences can enjoy community based radio programming intellectual and entertaining content, music and other spoken word programs. Deborah Cartmer is the program director at Niagara's CFBU 103.7 FM. Fans can support the voice of unrepresented individuals an groups in community by donating the non-profit channel. Follow the CFBU 103.7 FM on Facebook and Twitter. Here is the website: www.cfbu.ca
CFBU 103.7 FM Programs
| Scrap Metal | Outskirts Radio | The Punk Show | The British Are Coming | GeoNiagara |
| --- | --- | --- | --- | --- |
| Electric Blues | The Garden Show | Friday Night Happy Hour | Sabor Latino | Global Rhythms |
| Riddim Come Fawaad | Swoon | Tic Tac | The Waiting Room | Freshly Homegrown |
| Wings | Destructing Dinner | Blues | Niagara Voices and Views | Redline Rockabilly |
| Some Assembly | Jazz | A Touch of Folk | Brock Sports | RVF |
| Sounds of Ireland | Terra Informa | Alt Radio | RATG | World Beats |
Contact
Address: CFBU 103.7 FM
c/o 1812 Sir Isaac Brock Way
St. Catharines, Ontario
CANADA
L2S 3A1
Tel: 905 346 2644
Email: pd@cfbu.ca