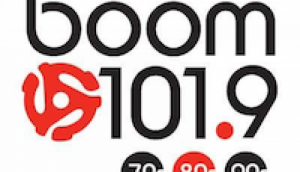 Boom 101.9 established in 1945 is a Classic Hits radio owned by Corus Entertainment currently and operating in Cornwall, ON. Scheduled to open on Feb 1, 1944 and at that time owned by the newspaper The Standard Freeholder, the CKSF (former calls) was at that time allotted a frequency of 1230 kHz with an ERP of 250 w for transmitter. The channel was launched on Feb 15, 1945 form its studios and offices at 36 Pitt Street. It as a CBC Dominion affiliate in 1958 applied for the change in frequency and ERP which were approved by CBC Board and were implemented later in the year; new wattage and frequency was now 1220 kHz and 1,000 w. The radio was acquired by Stanley Shankman in 1959 which changed the calls to CJSS-AM on June 1, 1959. Emard Family (Elzear Emard M.D.) took the possession of Shankman radio in 1961. CJSS got disaffiliated with CBC Dominion in 1962.
Enjoy More Ontarian and Canadian Radios
Listen Boom 101.9 Cornwall, ON Online
Listen Boom 101.9 (CJSS-FM) online form Cornwall, Ontario. Stream may take a moment to load.

More About Boom 101.9
CJSS-AM went off air due to a blizzard on Jan 9, 1988 before returning back to airs on Jan 15, 1998. The Canadian commission on April 1, 1999 approved the switching of the channel to FM band and the change in frequency which would be 101.9 MHz from now onwards. Also, 3,000 w would be the new ERP and rechristened station would be named as Blaze 101.9 FM. Tri-Co the owner of THE BLAZE was allowed to reduce the average and max. ERP of the transmitter to 1,420 and 15,000 watts. After the acquiring of station by Corus Entertainment in 2001 it was renamed as Rock 101.9 and the new owner moved all its Cornwall assets to 709 Cotton Mill Street. The format was changed from Classic to Active Rock in Feb 2007 but was revived in 201 to Oldies and Classics. Corus Radio was rebranded as Boom 101.9 on Aug 25, 2014. 70's, 80's, 90's is the catchphrase of the Boom. You can listen the Boom 101.9 with shows and contests (A Round a Day in May, Prize Vault: Little Bones, Boom Insider Club) info, events, on demand content, playlists, trending, local and latest music news. Follow the CJSS 101.9 FM Cornwall on Facebook, Twitter, SoundCloud, Instagram, and YouTube. Here is the website: www.boom1019.com
Boom 101.9 Cornwall Programs
| Boom breakfast with Dan & Bill | Kevin Wilson | Darryl Adams |
| --- | --- | --- |
| Gonzo | Boom Music | – |
Contact
Address: 709 Cotton Mill Street
Cornwall, Ontario
K6H 7K7
Tel: 613 932 5180
     613 932 2577
     1 866 732 1019
Fax: 613 938 0355
Email: bill.halman@corusent.com
       info@cjssfm.com