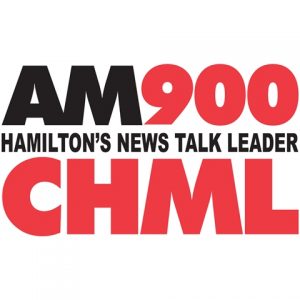 AM900 CHML is a Hamilton, ON based news and talk radio owned by Corus Entertainment. The station traces its roots back to 1926 when the channel was launched after the self-censorship on political issues was embraced by the CKOC – Hamilton's first radio. It all started from CKOC's silence on the repealing of the law that barred the sale of liquor in the province. Herbert Haslam Slack, the owner of the channel had no interest even to highlight the issue let alone debate on it. The censors were creating a stir among the members of First United Church Congregation. George Less and others on April 28, 1927 founded a company called Maple Leaf Radio Co. Ltd. to fight the bias. 222 King Street East was chosen for the studios and offices of CFML. AM900 started its broadcasts on a frequency of 880 kHz using a low-power 50-watts transmitter. By the end of the year 1927 the station became CHML. Until 1930 CHML had to share time with CHCS and CKOC however, in 1930 both moved to 1120 kHz leaving 880 kHz for the Canada, Hamilton & Maple Leaf's radio. 1010 kHz became the new frequency in Sep 1933 and wattage was incremented to 100 w in 1935. It subscribed to the British United Press news service in 1940.
Listen AM900 CHML Hamilton, ON Online
Listen AM900 online CHML online from Hamilton, Ontario. Wait as the stream loads.

List of Canadian and Ontarian Radios for Listeners
More About AM900 CHML
Frequency was finally changed to 900 kHz in 1941. Senator A.C. Hardy who purchased the station in 1936 sold it out to Kenneth D. Soble in 1944, Ken Soble having purchased Maple Leaf Broadcasting from Hardy became the youngest radio owner in the country. ERP was increased to 5,000 w in 1946. CHML-FM was launched in 1948 but was closed somewhere in 1950 to return back in 1964. CHML along with the sister CKDS was acquired by Radio ML Ltd. in July 1971. The power was increased to 50,000 w by the end of 1978 or in early 1979. Western International Communications Ltd. (WIC) owned ML Radio Ltd. acquired the CKDS and CHML in June 1982 however, ownership remained the same. Corus Entertainment Company after the split assets between it and CanWest Global had CHML by its side in July 2000. You can listen the Hamilton's News Talk Leader online with local news, sports news, weather, cancellations & closures, host blogs, traffic reports, shows info, sports, on demand content, Children's Fund, audio vault, podcasts, contests (Attractions Ontario – March Break Midland Getaway, March Break Wilderness Tours, March Break in Toronto, March Break in Niagara Falls), CHML Insider Club and more. Follow the AM900 CHML on Facebook, Twitter, SoundCloud and Instagram. Here is the website: www.900chml.com
AM900 Shows
| Bill Kelly Show (Podcast) | Dr. Danielle Show | The 5th Quarter (Podcast) | Cross Border Showcase |
| --- | --- | --- | --- |
| Sold on Hamilton | Ben Guyatt Show | The Global Market | The Hamilton Real Estate Show |
| The Scott Radley Show (Podcast) | Scott Thompson Show (Podcast) | Old Radio Shows | Coast To Coast |
| Planning Your Financial Future | Couch Potatoes | Ask the Experts | VGS – Video Game Sophestry |
| Raceline Radio | Anthony Urciuoli Show | Just for the Health of It | – |
| Roy Green Show | Employment Hour – with host Lior Samfiru | Ask the Experts | – |
AM900 News Personalities (Anchors and Hosts)
| Bill Kelly | Scott Thompson | Jen Watson |
| --- | --- | --- |
| Anthony Urciuoli | Paul Tipple | Elizabeth Russell |
| Scott Radley | Sara Cain | Shiona Thompson |
| Bill McDonald | Ted Michaels | Ken Mann |
| Jay McQueen | Roy Green | – |
Contact
Address: 875 Main Street West
Hamilton, Ontario. Canada. L8S 4R1
Tel: 905 521 9900
905 521 2700
Fax: 905 540 2452
Email: News@900chml.com