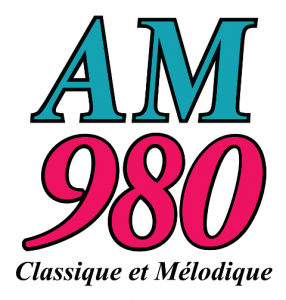 AM 980 is a Montreal based French language Adult Standards Radio founded in 2015 and owned by Evanov Communications. Classique et mélodique (Classic and Melodic) is the slogan and CFMB is the sibling of CHRF-AM. Dufferin Communications Inc. was given a green light by CRTC for a French language commercial radio that would broadcast on a frequency of 990 kHz. Dufferin was seeking for 690 kHz with an ERP of 50,000 w. Bell Media grabbed 690 leaving Dufferin to use 990 kHz. The planned station: Radio Fierté would broadcast spoken word and musical programming catering to the needs of LGBT community of Montreal. It was agreed by the Dufferin that programming would be local and directed to community interests in the city with a mix of musical genres.
Get More Canadian and Quebec Radios
Listen AM 980 Montreal, QC Online
Listen AM 980 (CHRF-AM) online from Montréal, Québec. Stream may take a moment to load.

News, spoken word, sports and traffic reports were among the programming. License was valid until Aug 31, 2018. Frequency was changed to 980 kHz in Oct 2014. After some test transmission in October 2014, the CHRF-AM singed on air on Feb 2, 2014 as an LGBT radio; Soft AC became the format in Dec 2015 and Haitian programming became part of the CHRF-AM during nighttime. Evanov Radio Group Inc. in Aug 2016 was approved to take control of the Dufferin-owned assets; CHRF-AM was one them. You can listen AM 980 Montreal online with Anglo and Francophone music, news and more. Follow the CHRF-AM on Facebook, Twitter and Instagram. Here is the website: www.montrealam980.com
AM 980 Montreal Programmation
| Café rivard | Arcobaleno musicale | Soirées loungy | Santé 360 |
| --- | --- | --- | --- |
| Retour de plaisance | Avec vous | – | – |
AM 980 Montreal Animateurs
| Alain Rivard | Mario Lipari | Arletta Fara |
| --- | --- | --- |
| Serge Plaisance | Johanne Verdon | – |
Contact
Address: AM-980 CHRF
5877 avenue Papineau
Montréal, QC H2G 2W3
Tel: 514 483 2362
Fax: 514 483 1362
Email: info@montrealam980.com