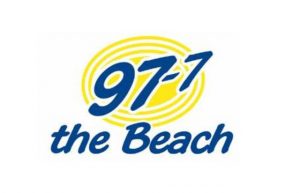 97.7 The Beach legally known as CHGB-FM is an AC radio station officially launched on May 18, 2007 by Bayshore Broadcasting. The Voice of South Georgian Bay is the slogan used by 97.7 The Beach. Bayshore Broadcasting Corp. file the application for license of a Classic Adult Contemporary radio at Wasaga Beach; the proposed station at 97.7 MHz with an ERP of 1,800 was rejected by CRTC. A second try finally got them license on Sep 13, 2006. The low power station would get the insisted frequency of 97.7 MHz however the wattage would be 200 watts. A variety of Oldies Pop and Soft rock was ready to go on-air.
Complete List of Ontarian and Canadian Radios
Listen 97.7 The Beach Wasaga Beach, ON Online
Welcome to the Voice of South Georgian Bay. Listen 97.7 The Beach online from Wasaga Beach, Ontario. Wait as the stream loads.

More About 97.7 The Beach
Thematic programs were also included in the weekly schedules of 97.7 The Beach. Besides music, newscasts and updates on Weekdays and weekends were also pledged by the CHGB-FM. After getting through some signal testing in April the channel made it on air for the first time on May 18, 2007 with the classic hits format focusing best numbers from 80's, 70s and 60s. In 2011 Ron Funnell joined the channel as General Manager and GSM (General Sales Manager) but left the station for Bell owned Kool FM 105.3 in 2012. Power increase of transmitter to 20,000 w was overruled in Jan 2014 though, the commission agreed to increase average ERP to 700 watts in Jan 2015. Classic Contemporary radio brings to its audiences the best mix featuring artists like Bryan Adams, Lionel Richie, The Eagles, Elton John and at the same time the contemporaries such as Taylor Swift, Adele, Michael Buble, Carrie Underwood, Maroon 5 and others. Audiences on the official site can listen to the online radio with extensive info on weather, traffic, get news, sports stories, contests and events info, podcasts, read CHGB-FM and find more. Follow the 97.7 The Beach on Facebook, YouTube and Twitter. Here is the website: www.977thebeach.ca
97.7 The Beach Programs
| 90's at Noon | Attention Local Music Talent! | Managing Your Money with Ted Pollock |
| --- | --- | --- |
| Friday Night Beach Party with Daryl MacLean | The Beach Drive with Chris Carrigan | Weekend Afternoons |
| The Parent Report | Weekend Mornings with Tony Hann | Double Double Café |
| Saturday Night Beach Party with Daryl MacLean | Middays with Barb Jelly | Rock and Roll Riot with Johnny Maraca |
| The Beach Breakfast with McCully and Mariane | Overnights | Weekend Morning with Cory Laycock |
| Sunday Evenings with Kelsie Kolo | Evenings with Jenny | – |
97.7 The Beach Announcers
| Mariane McLeod | Daryl MacLean | Johnny Maraca | Cory Laycock |
| --- | --- | --- | --- |
| Tony Hann | McCully | Barb Jelly | Kelsie Kolo |
| Chris Carrigan | Jenny | Catherine Thompson | – |
Contact
Address: 9937 Highway 26, Collingwood, ON, L9Y 0Y4
Tel: 705 422 0970
705 422 0977
Fax: 705 422 0468
Email: info@977thebeach.ca