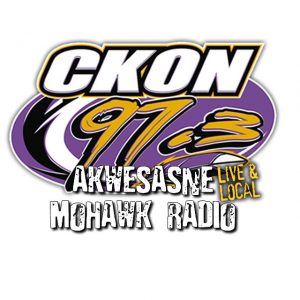 97.3 CKON Radio launched on Oct 1, 1984 before testing signals in September, is a country music and AC station operating in Akwesasne and owned by Akwesasne Communication Society, a non-profit community group. 97.3 Mhz and 3,000 w station operates from Akwesasne Communication Society Building situated on the international border. It alongside playing country, AC and oldies supports local and native/first nation artists from all across the Canada. Gold and Gospel are also broadcasted by the station preserving and promoting Mohawk culture. Programming and talk is produced in both English and Kanien'keha, the language owned by Mohawks. Calls: CKON represent a Mohawk word sekon meaning Hello.
Listen 97.3 CKON Radio Akwesasne, QC Online
Listen 97.3 CKON Radio FM online from Cornwall and St. Regis, QC. Wait as the stream loads.

More Canadian and Ontarian Radios for Listeners
More About CKON 97.3 Radio
The studios and offices are located on Canada-US border (partly in Hogansburg and partly in Saint Regis) while transmitter site comes on the Canadian side (Quebec) of the border in St. Regis. CKON-FM is flagship broadcaster of Cornwall Colts of Junior-league of ice hockey. Weather updates are borrowed from WPTZ. It comes as a surprise that the channel is not approved by CRTC or Federal Communications Commission of United States and was instead approved by Mohawk Nation Council of Chiefs and Clanmothers through a proclamation yet the call signs of the station are reserved and not listed in the CRTC calls directory which points their indirectly recognizing of the radio. You can listen the CKO 97.3 FM online with local news, sports, weather updates, community calendar, Radio Bingo, Tetewatharen (Let's All Talk). Follow the 97.3 CKON Radio on Facebook and Twitter. Here is the website: www.ckonfm.com
Contact
Address 1: St. Regis, QC. H0M-1A0
Address 2: P.O. Box 1260
Hogansburg, NY 13655
Tel: 613 575 2101
     613 575 2100
Fax: 613 575 2566
Email: ckonfm@yahoo.com
        frontdesk@ckonfm