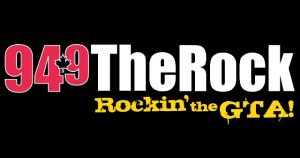 94.9 The Rock FM launched on Sep 12, 1957 is a mainstream rock station owned by Durham Radio Inc. and operating in Oshawa, ON. GTA's Rock Station is the slogan of 94.9 The Rock. Lakeland Broadcasting Co. Ltd. which already had ownership to CKLB-AM was approved to establish a commercial FM station at Oshawa on a frequency of 93.5 MHz using an ERP of 8,830 w. When the channel (CKLB-FM) was launched from its studios at 16 Centre Street it had an ERP of 14,000 w, higher than what was proposed earlier. Studios were relocated to 360 King Street West in 1963; the independent station broadcasted 133 hour per week. Calls were changed to CKQS-FM in June 1966 and frequency and ERP was changed to 94.9 MHz and 50,000 w. George H.
Explore more Ontarian and Canadian Radio Stations
Listen 94.9 The Rock FM Oshawa, ON Online
Listen 94.9 The Rock FM online from Oshawa, Ontario. Wait as the stream loads.
More About 94.9 The Rock FM Oshawa
Grant on behalf of Grant Broadcasting Ltd. a new company that was to incorporated acquired the CKQS and CKLB from Lakeland Broadcasting Co. Ltd. in 1979. Call sings were changed: CKQT in Feb 1979. Power Broadcasting Inc. took the ownership of the channel on Sep 27, 1990. It switched to Hot Adult Contemporary format and the calls were changed to CKGE-FM in Feb 1993. The Hot AC station was rechristened as Magic 94.9 dropping the old branding: The Edge in Aug 1995. CKDO started the simulcasting CKGE's content in June 1996. Corus Entertainment Inc. purchased the CKGE and CKDO in April 2000. Durham Radio Inc. acquired then Magic @ 94.9 FM from Corus on April 23 in June 20003 and relaunched the radio as 94.9 The Rock on June 12, 2003. The format was changed to Active Rock in 2012. Audiences can listen to the 94.9 FM online with top charts, news/latest headlines, contests (Alexis on Fire, March Movie Break, Rock Your Block, Finger Eleven) info, events and concert updates, phots/videos, audio clips, on-air lineup, The Rock Insiders, Generation Next, and playlists. Follow the 94.9 FM on Facebook, Twitter, YouTube and Instagram. Here is the website: www.therock.fm
94.9 FM Oshawa Shows
| Rock Mornings with Guest and Ted Reader/Craig Venn | Meital | 94.9 The Rock's Generation Next | Quittin Time Tune | Doug Elliott |
| --- | --- | --- | --- | --- |
| Bob Willette Rock 20 Countdown | Lee Eckley | 90s at Noon | Heading Home with the Hip | Lee Eckley |
94.9 FM Hosts
| Craig Venn | Natalie Fournier | Doug Elliott | Brian Moncarz |
| --- | --- | --- | --- |
| Lee Eckley | Bob Willette | Lucy | – |
Contact
Address: 94.9FM The Rock Studios
1200 Airport Blvd, #207
Oshawa, Ontario
L1J 8P5
Tel: 905 571 0949
905 571 1019
Fax: 905 571 1150
Email: doug@therock.fm