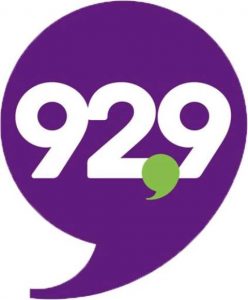 92,9 CFUT founded in 2005 is a community radio owned by La Radio Campus Communautaire Francophone de Shawinigan, Inc. and has operation in Shawinigan. CRTC permitted the channel on Sep 20, 2001 in its response to Denis Benoîta's (now Directeur Général) application; the francophone community Low-power radio would broadcast on a frequency of 91.9 MHz using a transmitter power of 1 watt and was further increased to 5 watts in 2002. Frequency was changed to 91.1 MHz in 2005. Radio communautaire de Shawinigan hit the waves somewhere in 2005. Effective radiated power was increased to 250 watts in the same year (2005). 126 hours of programming would include music, local and regional programs, community events, news, sports and weather updates. At least 120 hours would be produced exclusively by CFUT 92,9. Changes in technical contours of CFUT 92,9 were rejected by commission in Oct 2011 citing the interventions reported by CFOU-FM Trois-Rivières and CHHO-FM Louiseville. However the authorized contours were altered in April 2016 changing frequency to 92.9 MHz and increasing ERPs to 2,100 watts (avg) and 3,900 w (max); transmitter site was also moved to Mont-Carmel.
More Canadian and Quebec FM, AM and Online Stations
Listen 92,9 CFUT Shawinigan, QC Online
L'écouter, c'est futé ! Listen 92,9 CFUT online from Shawinigan, Québec. Wait as the player loads.
L'écouter, c'est futé ! is the slogan of CFUT 92.9 FM. Shawinigan Community Radio is a channel serving the Center-de-la-Mauricie region. Its sound management makes it possible to produce quality programs while offering information, education and entertainment. Staffing and volunteer training, active community presence, commitment to cultural development and responsibility in an emergency situation make Radio Shawinigan a binding place for the people of Central -the-Mauricie. As a community radio station, the community can volunteer at their will. Nouvelles régionales, Nos émissions, Articles récents, Musique, Archives, Concours and more is available online on CFUT 92,9 FM. Follow 92,9 CFUT FM on Facebook, SoundCloud and Twitter. Here is the website: www.929cfut.com
Contact
Address: 540 avenue Broadway, Shawinigan
Québec G9N 1M3
Tel: 819 537 0911
Fax: 819 537 6377
Email: nouvelles@929cfut.com