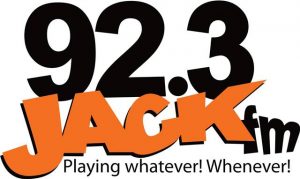 92.3 JACK FM Smith Falls first aired in 1955 is an Adult Hits radio owned by Rogers Media.  The radio serving the area of Smiths Falls in Ontario was allowed to operate in 1955 when John Pollie, obtained an AM station license; the channel would air on a frequency of 1070 kHz with an ERP of 1,000 w. CFRL were the initially proposed calls for the radio but later changed to CJET and began broadcasting on Oct 22, 1955. Power was increased to 1,000 w on Aug 3, 1956 and the radio was only available during day times – CJET maintained its positon as an independent. Frequency was changed to 630 kHz in 1958 and was further incremented to 10,000 w (full-time) in 1965. New studios became operational on Nov 15, 1965.
Complete List of Canadian and Ontarian radios for Listeners
Listen 92.3 JACK FM Smiths Falls, ON Online
Listen 92.3 JACK FM: Your Radio Station, in Your Community online from Smiths Falls, Ontario. Wait as the stream loads.